Jurnal Gizi Klinik Indonesia [ISSN 1693-900X (Print), ISSN 2502-4140 (Online)] merupakan open access and peer-reviewed journal yang memuat artikel penelitian (research article) di bidang gizi dan kesehatan, yang terkait gizi klinis, gizi masyarakat, gizi olahraga, gizi molekular, biokimia gizi, pangan fungsional, serta pelayanan dan manajemen gizi. Jurnal ini diterbitkan oleh Minat Gizi dan Kesehatan, Prodi S2 Ilmu Kesehatan Masyarakat, Fakultas Kedokteran, Kesehatan Masyarakat, dan Keperawatan Universitas Gadjah Mada bekerjasama dengan Persatuan Ahli Gizi Indonesia (PERSAGI) dan Asosiasi Dietisien Indonesia (AsDI) dengan frekuensi terbit empat kali dalam setahun.
Jurnal Gizi Klinik Indonesia diakui sebagai Jurnal Ilmiah Terakreditasi (Sinta 2) tahun 2021 - 2025 oleh Akreditasi Jurnal Nasional (ARJUNA) yang dikelola Kementerian Pendidikan, Kebudayaan, Riset, dan Teknologi berdasarkan keputusan Nomor: 158/E/KPT/2021.
Pembelian hard copy jurnal dapat dilakukan melalui sistem (silakan isi formulir pemesanan jurnal di sini). Jurnal Gizi Klinik Indonesia melakukan beberapa perubahan yang diinformasikan pada Journal History.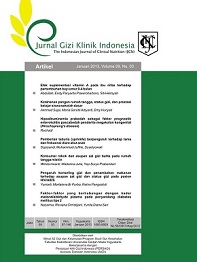 Announcements
No announcements have been published.
Vol 20, No 1 (2023): Juli
Table of Contents
Articles
Rylandnia Sucha Anwar, Fillah Fithra Dieny, Etisa Adi Murbawani, Deny Yudi Fitranti

10.22146/ijcn.76302

Abstract views : 31 |

views : 21

1-8
Resha Ayu Wildiana, Lily Arsanti Lestari, Supriyati Supriyati

10.22146/ijcn.75261

Abstract views : 31 |

views : 22

9-20