Journal of Indonesian Economy and Business (JIEB) is aimed at being a medium for research results dissemination and scientific paper exchanges on the Indonesian economy and business among international academics, practitioners, regulators, and public. The JIEB is issued three times annually, i.e., in January, May, and September.
The Editor receives rigorous research manuscripts that have not been offered for publication elsewhere. In addition, analyses on new economics and business books published in Indonesia and/or overseas and notes or comments on articles published in the Journal are welcomed. Since its first issue published in 1986, the JIEB has advanced very well. As of the latest edition, i.e., Vol. 31 No. 2 (May 2016), the Journal has delivered 75 issues. It has been able to show its existence and plays a huge role in the fields of economics and business in Indonesia. Its commitment toward the development of education, especially in the realm of research, leads to the JIEB being a prestigious scholarly periodical in the world on the Indonesian economy and business.
The JIEB is one of the best, if not the best, scientific journals on economics and business in Indonesia as evidenced by an accreditation given by the Directorate General of Higher Education of the Department of National Education of the Republic of Indonesia (No. 36a/E/KPT/2016). The JIEB has been indexed in EBSCO, EconLit (American Economic Assosciation), ProQuest, and Google Scholar. It is currently putting effort to get indexed by Scopus and Social Sciences Citation Index (SSCI) in the near future. In essence, the Journal is committed to maintaining quality and leveraging accessibility toward online worldwide indexes.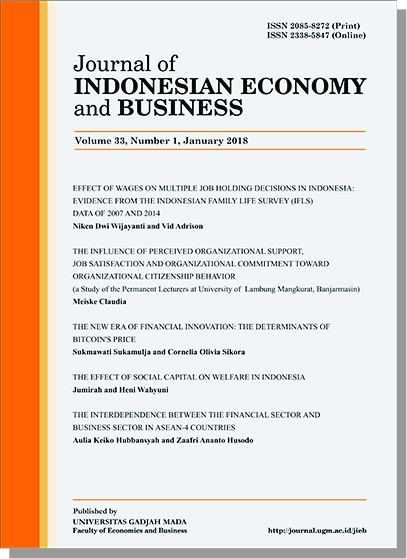 Announcements
Call for Paper: JIEB 2017

Journal Indonesian of Economics and Business (JIEB) will held a Call for Paper 2017. JIEB invite researcher to submit manuscript for May and September edition.


Posted: 2017-02-23
More...
Vol 31, No 3 (2016): SEPTEMBER
Table of Contents
Articles
| | | |
| --- | --- | --- |
| | Junaidi ., Novia Nurul Khasanah, Nurdiono . | 247-259 |
| | | |
| --- | --- | --- |
| | Ni Putu Wiwin Setyari, Surya Dewi Rustariyuni, Luh Putu Aswitari | 260-278 |
| | | |
| --- | --- | --- |
| | Yoyo Sunaryo Nitiwijaya, Hajanirina Andrianantenaina | 279-291 |
| | | |
| --- | --- | --- |
| | Join Rachel Luturmas, Nurul Indarti | 292-306 |
| | | |
| --- | --- | --- |
| | Trifandi Lasalewo, Nur Aini Masruroh, Subagyo ., Budi Hartono, Hari Agung Yuniarto | 307-324 |
| | | |
| --- | --- | --- |
| | Markus Surkamta Eric Santosa | 325-344 |
Book Review