The Journal of Electricity, Instrumentation and Applied Electronics (JuLIET) is a scientific open-access journal published by the Department of Electrical and Information Engineering, Vocational School, Gadjah Mada University. JuLIET is issued twice a year with varying volumes. JuLIET was first published, Vol 1, No 1 in April 2020. This journal contains writings taken from the results of research and analytical studies in the field of applied science and technology, specifically:
Electrical Engineering: Power Systems, Generators, Power Distribution and Transmission, Power Distribution and Transmission, Electrical Power Conversion, Distributed Generation, Protection Systems, and Renewable Energy. 
Instrumentation: Instrumentation, Sensors and Actuators, Industrial Instrumentation.
Applied Electronics: Signal, System, and Electronics, Digital Signal Processing, Image Processing, Robotic Systems, Control and Automation Systems, and Embedded Systems.
Articles that enter the editors are selected by a blind peer-review system to maintain objectivity while opening opportunities for everyone, regardless of educational background to be able to contribute. And all articles that are entered will be checked using the Turnitin software as a Plagiarism Tool. Open Journal Systems (OJS) has been applied to all processes at JuLIET. Therefore, the author is required to register first and upload the script online. The manuscript process can be monitored through OJS. Writers, readers, editorial boards, editors, and peer reviews can obtain real-time status from the manuscript.
Carefully read the guidelines and template of this journal. Authors who want to submit a manuscript must appropriate with the writing guidelines. If the manuscript submitted does not appropriate with the guidelines or is written in a different format, then the manuscript will be REJECTED by the editor before further review. The editors will only accept scripts that meet the specified format.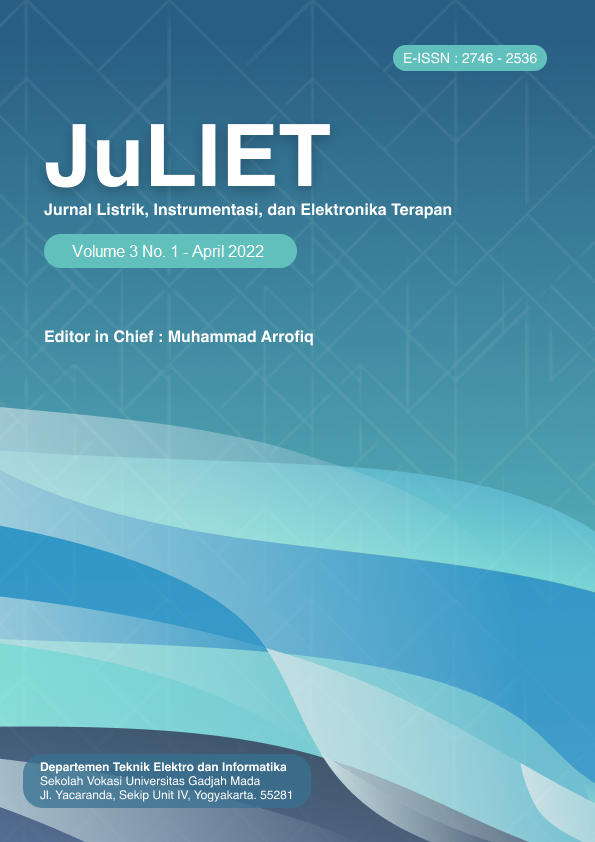 Announcements
No announcements have been published.
Vol 3, No 1 (2022)
Table of Contents
Articles
Mochammad Haldi Widianto, Matthew Christopher Albert, Herlangga Karteja

10.22146/juliet.v3i1.74004

Abstract views : 46 |

views : 62
Rismanda Tyas Kusumadewi, Rizki Kurniadi, Unan Yusmaniar Oktiawati

10.22146/juliet.v3i1.74621

Abstract views : 19 |

views : 10