Acute and Sub-Chronic Toxicity Study of 1-(2, 5-Dihidroxyphenil)-3- Pyridine-2-Il-Propenone In Adult Female Mice
Ika Puspitasari

Department of Pharmacology and Clinical Pharmacy, Faculty of Pharmacy, Universitas Gadjah Mada, Yogyakarta, Indonesia Sekip Utara 55281

Ratna Asmah Susidarti

Department of Pharmaceutical Chemistry, Faculty of Pharmacy, Universitas Gadjah Mada, Sekip Utara 55281

Arief Nurrochmad

Department of Pharmacology and Clinical Pharmacy, Faculty of Pharmacy Universitas Gadjah Mada, Skip Utara 55281 Yogyakarta Indonesia

Pridiyanto Pridiyanto

Undergraduate student, Faculty of Pharmacy Universitas Gadjah Mada, Skip Utara 55281 Yogyakarta Indonesia

Devie Amalia Utami

Undergraduate student, Faculty of Pharmacy Universitas Gadjah Mada, Skip Utara 55281 Yogyakarta Indonesia

Pipit Febrian

Undergraduate student, Faculty of Pharmacy Universitas Gadjah Mada, Skip Utara 55281 Yogyakarta Indonesia

Thoriq Ziyad

Undergraduate student, Faculty of Pharmacy Universitas Gadjah Mada, Skip Utara 55281 Yogyakarta Indonesia
Keywords:
acute toxicity, chalcone analogue, sub-chronic toxicity
Abstract
This research aimed to evaluate the toxicity of 1-(2, 5-dihidroxyphenil)-3-pyridine-2-il-propenone (DPP) after 24 hours and 90-day administration in female mice. Acute toxicity test was performed using the OECD 423 method, and DPP was administered once a day at doses of 300, 2000, and 5000 mg/kg body weight (BW). Toxic symptoms were observed after 24 hours of administration, and this continued until the 14th day. The experimental animals were dissected and examined for histological organs on the 15th day. The sub-chronic toxicity test was performed using the OECD 408 method, and DPP at 14, 28, and 56 mg/kg/day was administered for 90 days. Toxic symptoms were observed every day, and the amount of food and water intakes were also measured. Furthermore, statistical analysis was performed, and changes in body weight as well as routine blood checks and biochemistry were observed. At the end of the study, experimental animals were killed and the vital organs' weights were examined before their histological analysis. The results showed that DPP at 300-5000 mg/kg/day and 14-56 mg/kg/day for 90 days did not show any toxic symptom respectively. In the sub-chronic toxicity test, no change was observed in blood and urine biochemical parameters (p≥0.05). However, lymphocytic infiltration in the liver and congested vessel in the kidney occurred after administration at 56 mg/kg / day. The results showed that the acute toxicity of DPP is at category 5 according to Globally Harmonized Classification System and sub-chronic toxicity is at a dose below 56 mg/kg/day.
References
Aithal, G. P. (2011). Hepatotoxicity related to antirheumatic drugs. Nature Reviews. Rheumatology, 7(3), 139–150. https://doi.org/10.1038/nrrheum.2010.214
Bénichou, C. (1990). Criteria of drug-induced liver disorders. Report of an international consensus meeting. Journal of Hepatology, 11(2), 272–276. https://doi.org/10.1016/0168-8278(90)90124-a
Figueiredo, C. P., Ferreira, N. C., Passos, G. F., Costa, R. D., Neves, F. S., Machado, C. S. C., Mascarello, A., Chiaradia-Delatorre, L. D., Neuenfeldt, P. D., Nunes, R. J., & Cordeiro, Y. (2015). Toxicological Evaluation of Anti-Scrapie Trimethoxychalcones and Oxadiazoles. Anais Da Academia Brasileira de Ciências, 87(2), 1421–1434. https://doi.org/10.1590/0001-3765201520140712
Forejnikova, H., Kunerova, K., Kubinova, R., Jankovska, D., Marek, R., R, K., V, S., J, V., & M, M. (2005). Chemoprotective and toxic potentials of synthetic and natural chalcones and dihydrochalcones in vitro. Toxicology, 208(1), 81–93. https://doi.org/10.1016/j.tox.2004.11.011
Lin, C. N., Lee, T. H., Hsu, M. F., Wang, J. P., Ko, F. N., & Teng, C. M. (1997). 2',5'-Dihydroxychalcone as a potent chemical mediator and cyclooxygenase inhibitor. The Journal of Pharmacy and Pharmacology, 49(5), 530–536. https://doi.org/10.1111/j.2042-7158.1997.tb06837.x
Lucas, G. N. C., Leitão, A. C. C., Alencar, R. L., Xavier, R. M. F., Daher, E. D. F., & Silva Junior, G. B. da. (2019). Pathophysiological aspects of nephropathy caused by non-steroidal anti-inflammatory drugs. Jornal Brasileiro De Nefrologia: 'Orgao Oficial De Sociedades Brasileira E Latino-Americana De Nefrologia, 41(1), 124–130. https://doi.org/10.1590/2175-8239-JBN-2018-0107
Mahapatra, D., Bharti, S., & Asati, V. (2017). Chalcone Derivatives: Anti-inflammatory Potential and Molecular Targets Perspectives. Current Topics in Medicinal Chemistry, 17(28), 3146–3169. https://doi.org/10.2174/1568026617666170914160446
Meyer, B. N., Ferrigni, N. R., Putnam, J. E., Jacobsen, L. B., Nichols, D. E., & McLaughlin, J. L. (1982). Brine shrimp: A convenient general bioassay for active plant constituents. Planta Medica, 45(5), 31–34. https://doi.org/10.1055/s-2007-971236
Mukherjee, D., Nissen, S. E., & Topol, E. J. (2001). Risk of cardiovascular events associated with selective COX-2 inhibitors. JAMA, 286(8), 954–959. https://doi.org/10.1001/jama.286.8.954
Nowakowska, Z. (2007). A review of anti-infective and anti-inflammatory chalcones. European Journal of Medicinal Chemistry, 42(2), 125–137. https://doi.org/10.1016/j.ejmech.2006.09.019
Nurrochmad, A. & Airin, C.M., 2013, Standarisasi Hewan Laboratorium UnitPengembangan Hewan Percobaan dalam Rangka Penguatan RisetLingkungan Universitas Gadjah Mada, Laporan Penelitian, LembagaPenelitian dan Pengabdian Masyarakat Universitas Gadjah Mada,Yogyakarta
O'Connor, N., Dargan, P. I., & Jones, A. L. (2003). Hepatocellular damage from non-steroidal anti-inflammatory drugs. QJM: Monthly Journal of the Association of Physicians, 96(11), 787–791. https://doi.org/10.1093/qjmed/hcg138
OECD. (n.d.-a). OECD iLibrary | Test No. 423: Acute Oral toxicity—Acute Toxic Class Method. Retrieved July 21, 2020, from https://www.oecd-ilibrary.org/environment/test-no-423-acute-oral-toxicity-acute-toxic-class-method_9789264071001-en
OECD. (n.d.-b). Test No. 408: Repeated Dose 90-Day Oral Toxicity Study in Rodents [Text]. Retrieved July 21, 2020, from https://www.oecd-ilibrary.org/environment/test-no-408-repeated-dose-90-day-oral-toxicity-study-in-rodents_9789264070707-en
Pandit, A., Sacdeva, T., & Bafna, P. (n.d.). Drug-Induced hepatotoxicity:a review. https://doi.org/10.7324/JAPS.2012.2723
Perdana, F., Eryanti, Y., & Zamri, A. (2015). Synthesis and Toxicity Assessments Some Para-methoxy Chalcones Derivatives. Procedia Chemistry, 16, 129–133. https://doi.org/10.1016/j.proche.2015.12.040
Rozmer, Z., & Perjési, P. (2016). Naturally occurring chalcones and their biological activities. Phytochemistry Reviews, 15(1), 87–120. https://doi.org/10.1007/s11101-014-9387-8
Shin, S., Yoon, H., Ahn, S., Kim, D., Kim, K., Koh, D., Lee, Y., & Lim, Y. (2013). Chromenylchalcones showing cytotoxicity on human colon cancer cell lines and in silico docking with aurora kinases. Bioorganic & Medicinal Chemistry, 21(14), 4250–4258. https://doi.org/10.1016/j.bmc.2013.04.086
Suzuki, K., Seung, B. H., Sung, L. S., Sanghyun, L., Hoon, J. S., Sil, L. Y., Hyun, S. K., & Ohuchi, K. (2005). The mechanism of anti-inflammatory activity of 2'-hydroxychalcone derivatives. 炎症・再生, 25(2), 130–136. https://doi.org/10.2492/jsir.25.130
Tekale, S., Maskele, S., Pooe, O., Kendrekar, P., & Pawar, R. (n.d.). Biological Role of Chalcones in Medicinal Chemistry | IntechOpen. Retrieved July 21, 2020, from https://www.intechopen.com/books/vector-borne-diseases-recent-developments-in-epidemiology-and-control/biological-role-of-chalcones-in-medicinal-chemistry
Wibowo, A.E. 2013. Sintesis dan uji aktifitas antiinflamasi senyawa 1- (2,5-dihidroksifenil)-(3-piridin-2-il)- propenon. Tesis. Program Studi Ilmu Farmasi, Fakultas Farmasi, Universitas Gajah Mada.
Zenger, K., Dutta, S., Wolff, H., Genton, M. G., & Kraus, B. (2015). In vitro structure-toxicity relationship of chalcones in human hepatic stellate cells. Toxicology, 336, 26–33. https://doi.org/10.1016/j.tox.2015.07.012
Zhang, X.-W., Zhao, D.-H., Quan, Y.-C., Sun, L.-P., Yin, X.-M., & Guan, L.-P. (2010). Synthesis and evaluation of antiinflammatory activity of substituted chalcone derivatives. Medicinal Chemistry Research. https://agris.fao.org/agris-search/search.do?recordID=US201301825872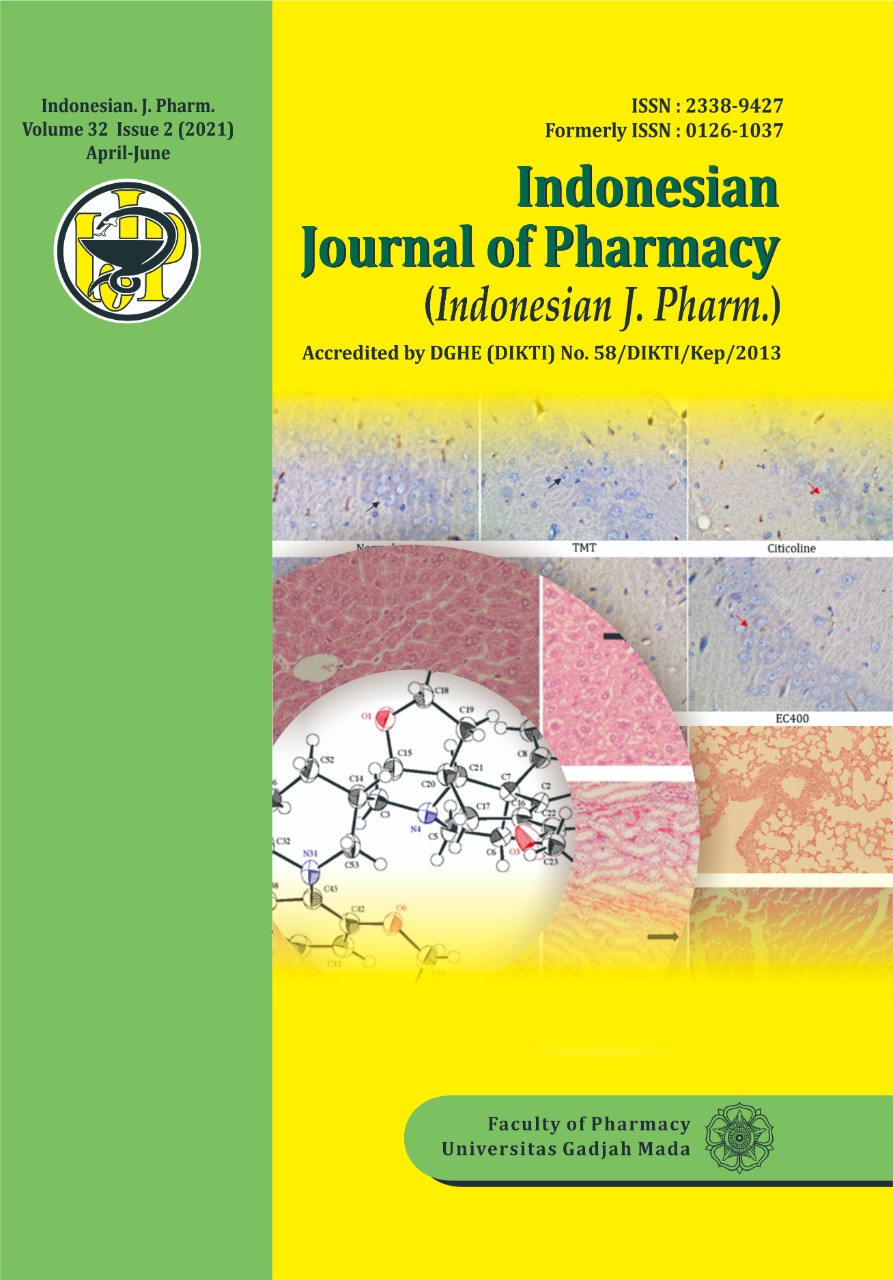 How to Cite
Puspitasari, I., Susidarti, R. A., Nurrochmad, A., Pridiyanto, P., Utami, D. A., Febrian, P., & Ziyad, T. (2021). Acute and Sub-Chronic Toxicity Study of 1-(2, 5-Dihidroxyphenil)-3- Pyridine-2-Il-Propenone In Adult Female Mice. Indonesian Journal of Pharmacy, 32(2), 150-157. https://doi.org/10.22146/ijp.1258
Copyright (c) 2021 Indonesian Journal of Pharmacy
This work is licensed under a Creative Commons Attribution-ShareAlike 4.0 International License.