Synthesis and Anti-Inflammatory Activity of 1-(2,5-Dihydroxyphenyl)-3-Pyridine-2-Yl-Propenone (AEW-1) Compound
Andy Eko Wibowo

Department of Pharmacy, Faculty of Medicine, Universitas Muhammadiyah of Yogyakarta Jl. Brawijaya, 55183, Bantul, Yogyakarta, Indonesia

Ratna Asmah

Department of Pharmaceutical Chemistry, Faculty of Pharmacy, Universitas Gadjah Mada, Yogyakarta, Indonesia Sekip Utara 55281

Ika Puspitasari

Department of Pharmacology and Clinical Pharmacy, Faculty of Pharmacy, Universitas Gadjah Mada, Yogyakarta, Indonesia Sekip Utara 55281
Keywords:
chalcone, n-hydroxychalcone, microwave, K2CO3, anti-inflammatory
Abstract
Chalcone compounds and some n-hydroxychalcone compounds exhibit anti-inflammatory activity. Chalcone derivatives 1-(2,5-dihydroxyphenyl)-(3-pyridine-2-il)-propenone showed a stronger bond to the COX-2 enzyme than 1-(2,4-dihydroxyphenyl)-3-pyridine-2-il-prophenone, 2′,5′-dihydroxychalcone, 4-chloro-2′, 4′-dihydroxichalcone, and several NSAIDs when they were tested for molecular docking computing using MOE software. It shows that compounds 1-(2,5-dihydroxyphenyl)-(3-pyridine-2-il)-prophenone. Computationally have better anti-inflammatory activity. Synthesis of compounds was by reacting 2,5-dihydroxyacetophenone and pyridincarbaldehyde (without solvent, K2CO3 catalyst) under microwave radiation (radiation strength of P6 / equivalent to 41oC) within 4 minutes. The purification used ethanol washing: aquadest (10:90) and ethanol recrystallization. The structure of the synthesized compound was determined by mass spectroscopy, ultraviolet and visible (UV-Vis), infrared (IR), 1H-NMR, 13C-NMR, DEPT, and 2-dimensional NMR spectroscopy (HMQC, COSY, and HMBC). Anti-inflammatory activity test used rat foot edema method, which was induced by carrageenan. The structural elucidation showed that the compound synthesized was 1-(2,5-dihydroxyphenyl)-(3-pyridine-2-il)-propenone. The compound has a red color, a melting point of 190oC, and a purity of 94% by liquid chromatography. The compound had % DAI (Percentage of Anti-Inflammatory Power) of 50.05 ± 16,244 which was not significantly different from % DAI of ibuprofen (57.22 ± 20.134) (p> 0.05).
References
Appu, V., 2010, Synthesis of Chalcones and Derivatives, Tesis, Universiti Teknologi Malaysia, Malaysia.

Dao T., Park, H., Ecker, G.and Minh, K., 2008, 2'-Hydroxychalcone Analogues: Synthesis and Structure-PGE2 Inhibitory Activity Relationship, Presented at the international Electronic Conference on Synthetic Organic Chemistry,1-30 November.

Jayapal, M., Sreenivasa, K.P., and Sreedhar, N., 2010, Synthesis and Characterization of 2,5-Dihydroxy substituted Chalcones using SOCl2/EtOH, International Journal of Pharmaceutical and Biological Sciences, 1, 362-366.

Lin, C., Lee, T.H., Hsu, M.F., Wang, J.P., Ko, F.N., Teng, C.M., 1997, 2′, 5′-Dihydroxychalcone as a Potent Chemical Mediator and Cyclooxygease Inhibitor, Journal Pharmaceutical Pharmacology, 49, 530 - 536.

Srivastava, Y.K., 2006, Ecofriendly microwave assisted synthesis of some Chalcones, Rasyan Journal Chemestry, 1, 884-886.

Wibowo, A.E.2013. Sintesis dan Uji aktifitas antiinflamasi senyawa 1- (2,5-dihidroksifenil)-(3-piridin-2-il)- propenon. Tesis. Program Studi Ilmu Farmasi, Fakultas Farmasi, Universitas Gajah Mada.

Zhang, X.W., Zhao, D.H., Quan, Y.C., Sun, L.P., Yin, X.M., and Guan, L.P., 2010, Synthesis and evaluation of anti-inflammatory activity of substituted chalcone derivatives, Journal Medicinal Chemistry Research, 19, 403– 412.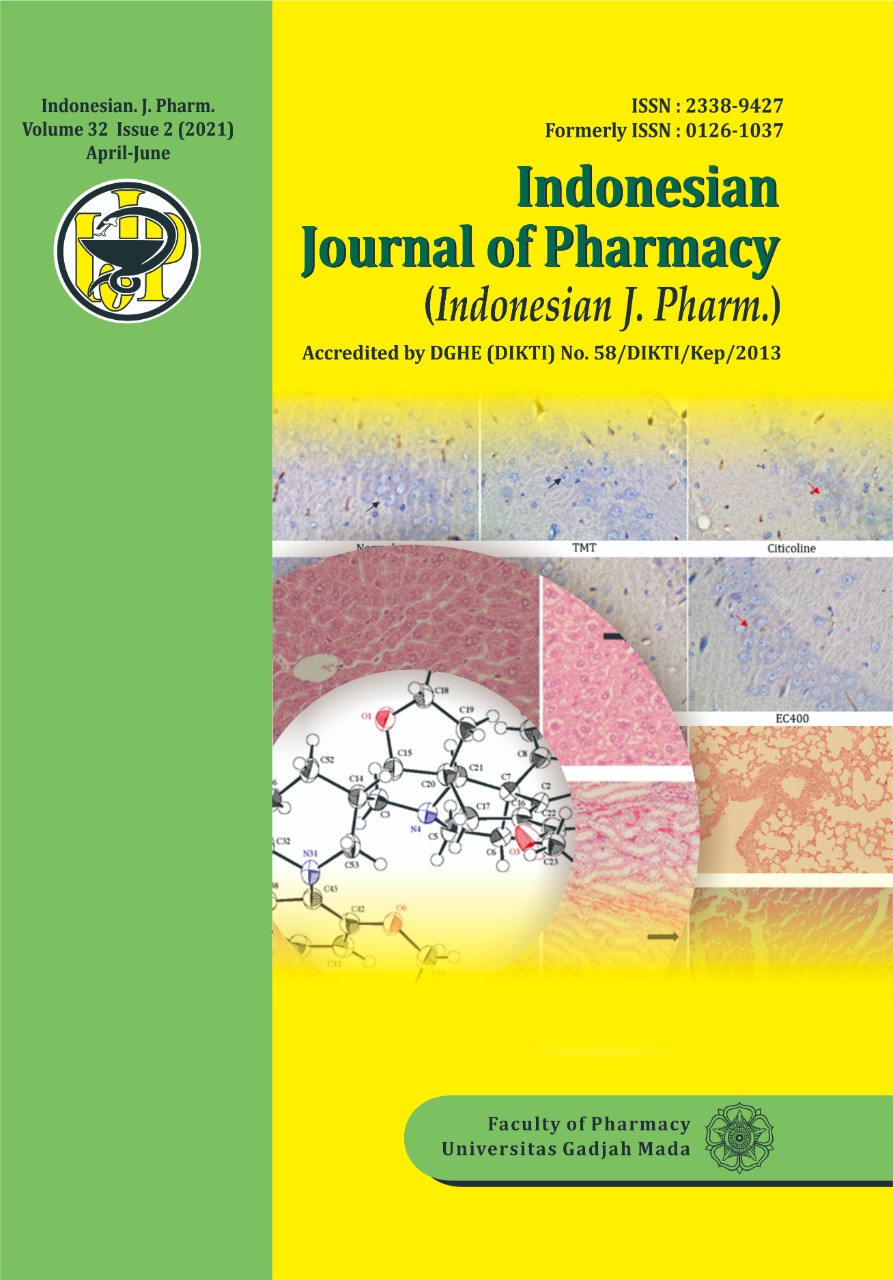 How to Cite
Wibowo, A. E., Asmah, R., & Puspitasari, I. (2021). Synthesis and Anti-Inflammatory Activity of 1-(2,5-Dihydroxyphenyl)-3-Pyridine-2-Yl-Propenone (AEW-1) Compound . Indonesian Journal of Pharmacy, 32(2), 209-220. https://doi.org/10.22146/ijp.1263
Copyright (c) 2021 Indonesian Journal of Pharmacy
This work is licensed under a Creative Commons Attribution-ShareAlike 4.0 International License.