An Efficient Directly Conversion of the Ethyl p-Methoxycinnamate into N,N-dimethyl-p-Methoxycinnamamide and study the structure-activity relationship on anti-inflammatory activity
Ismiarni Komala

Department of Pharmacy, Faculty of Health Sciences, Universitas Islam Negeri Syarif Hidayatullah Jakarta.Jl. Kertamukti No 5, Pisangan Ciputat, Indonesia

Supandi Supandi

Department of Pharmacy, Faculty of Health Sciences, Universitas Islam Negeri Syarif Hidayatullah Jakarta.Jl. Kertamukti No 5, Pisangan Ciputat, Indonesia

Ahmad Thantow

Department of Pharmacy, Faculty of Health Sciences, Universitas Islam Negeri Syarif Hidayatullah Jakarta.Jl. Kertamukti No 5, Pisangan Ciputat, Indonesia

Andrianopsyah Mas Jaya Putra

Pusat Penelitian Kimia-LIPI, Gedung 452-Kawasan Puspitek, Tangerang Selatan 15314
Keywords:
Anti-inflammatory, direct amidation, N,N-dimethyl-p-methoxycinnamamide, ethyl p-methoxycinnamate, Kaempferia galanga, microwave-promoted synthesis
Abstract
Ethyl p-methoxycinnamate (EPMC) (1) is a major natural ester found in the rhizome of Kaempferia galanga and has been reported to have anti-inflammatory activity. Some of the structural modification of this compound has been carried out in order to study the structure-activity relationship on its anti-inflammatory activity. In the present study, we report a new, simple and efficient procedure in the conversion of the ethyl p-methoxycinnamate into N,N-dimethyl-p-methoxycinnamamide (5) and then study the structure-activity relationship on its anti-inflammatory activity. The reaction was carried out through a microwave-assisted direct amidation between (EPMC) (1) with dimethylformamide (DMF) in the basic condition. The mixture was irradiated by using unmodified microwave-oven at 300 W for 1 minute to obtain compound (5) in 88.8% yields. The extensive analysis of the GCMS and NMR data supported that the product of synthesis is N,N-dimethyl-p-methoxycinnamamide (5). Evaluation of the anti-inflammatory activity of compound 5 by using anti-denaturation of heat bovine serum albumin (BSA) assay indicated that N,N-dimethyl-p-methoxycinnamamide (5) still have anti-denaturation activity. Compound 5 has an amide functional group which is more slowly hydrolyzed if compared to 1. Hence, the reaction has successfully produced a more stable compound which still has anti-inflammatory activity
References
Buncel E., and Symons E. 1970. The inherent instability of dimethylformamide-water systems containing hydroxide ion. Journal of the Chemical Society D, 1710(0), 164–165.
De Figueiredo RM., Suppo JS., and Campagne JM. 2016. Nonclassical Routes for Amide Bond Formation. Chemical Reviews, 116(19), 12029–12122.
Komala I., Supandi, and Hardiansyah MM. 2018. Direct Amidation of ethyl p -methoxycinnamate to Produce N , N -bis- ( 2-hydroxyethyl ) - p -methoxycinnamamide. Jurnal Kimia Valensi, 4(1), 22–25.
Komala I., Supandi, Nurhasni, Betha O., Putri E., et al., 2018. Structure-activity relationship study on the ethyl p -methoxycinnamate as an anti-inflammatory agent. IJC, 18(1),60-65.
Komala, I., Supandi, Nurhasni, Betha, O. S., Yardi, Mufidah, S., Reza, M., Ali, M. S., Aula, N. S., Sutar. 2017. Microwave assisted synthesis of p-methoxycinnamamides and p-methoxy-β-nitrosytrenes from ethyl p-methoxycinnamate and screening their anti-inflammatory activity. Natural Product Communications, 12(8), 1265–1268.
Pathan RU., and Patil SL. 2008. Synthesis and antimicrobial activity of N , N-dialkyl cinnamamides. Oriental Journal Of Chemistry, 24(2), 709–712.
Pattabiraman, V. R., & Bode, J. W. (2011). Rethinking amide bond synthesis. Nature, 480(7378), 471–479.
Sabatini MT., Boulton LT., and Sheppard TD. 2017. Borate esters: Simple catalysts for the sustainable synthesis of complex amides. Science Advances, 3(9), 1–8.
Vrijdag JL., Delgado F., Alonso N., De Borggraeve W. M., Pérez-Macias N., and Alcázar, J. 2014. Practical preparation of challenging amides from non-nucleophilic amines and esters under flow conditions. Chemical Communications, 50 (95), 15094–15097.
Waterman KC., Adami RC., Alsante KM., Antipas A. S., Arenson DR., et al., 2002. Hydrolysis in Pharmaceutical Formulations. Pharm Dev Tech, 7(2), 113–146.
Williams LAD., O'Connar A., Latore L., Dennis,O., Ringer S., Whittaker JA., et al., 2008. The in vitro anti-denaturation effects induced by natural products and non-steroidal compounds in heat treated (Immunogenic) bovine serum albumin is proposed as a screening assay for the detection of anti-inflammatory compounds, without the use of animals. West Indian Medical Journal, 57(4), 327–331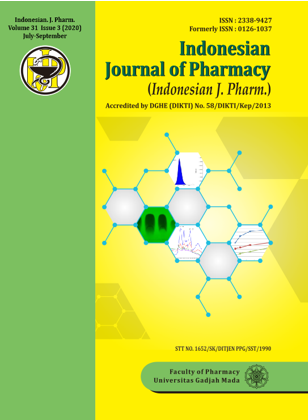 How to Cite
Komala, I., Supandi, S., Thantow, A., & Mas Jaya Putra, A. (2020). An Efficient Directly Conversion of the Ethyl p-Methoxycinnamate into N,N-dimethyl-p-Methoxycinnamamide and study the structure-activity relationship on anti-inflammatory activity. Indonesian Journal of Pharmacy, 31(3), 144-149. https://doi.org/10.22146/ijp.812
Copyright (c) 2020 Indonesian Journal of Pharmacy
This work is licensed under a Creative Commons Attribution-ShareAlike 4.0 International License.