Order Printed Version
Subscription and Manuscript Charge Rate
| Product Buletin Psikologi | Subscribe | Java | Outside Java | Direct Order |
| --- | --- | --- | --- | --- |
| Printed 1 year | 2 issues | IDR 140,000 | IDR 160,000 | IDR 120,000 |
| Printed 2 year | 4 issues | IDR 280,000 | IDR 320,000 | IDR 240,000 |
The price above includes the shipment cost for the printed version.
| No | Product Buletin Psikologi | Printed |
| --- | --- | --- |
| 1 | 1 Number | IDR 60.000 |
| 2 | 1 Volume (No. 1 and 2) | IDR 120.000 |

Buletin Psikologi is an Open Access Journal that allows you to copy, download, and print all published articles under a Creative Commons Attribution-Non Commercial-ShareAlike 4.0 International License (CC BY-SA 4.0). Electronic version is available at https://jurnal.ugm.ac.id/buletinpsikologi
Direct purchase, you can come to the Faculty of Psychology Universitas Gadjah Mada

Purchase online by filling the registration form to purchase/subscribe click the following link: http://ugm.id/sO

Please send proof of payment to this email address: buletinpsikologi@ugm.ac.id.

Guide/Payment Instructions Transfer Through Mandiri Virtual Account 8888813054100003 (UGM FPS KER PENJ PRO/JS Masyarakat)

Before you order printed manuscripts, please contact: buletinpsikologi@ugm.ac.id, checking the availability of buletin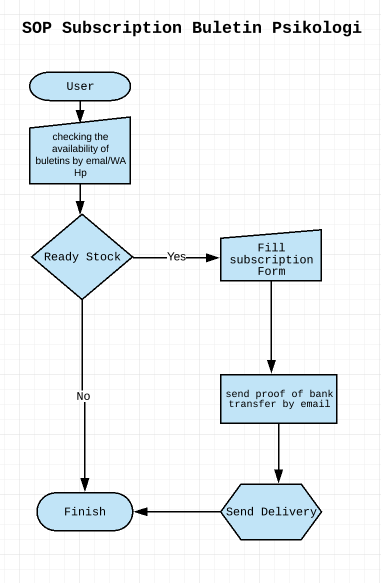 For more responsive service and direct information on current stock and pricing, please contact us at:
Whatsapp: +6289527548628
Email: buletinpsikologi@ugm.ac.id
Editorial Secretary
Unit Research Development and Community Research
Faculty of Psychology - Universitas Gadjah Mada - Yogyakarta - Indonesia Building A 2nd Floor.
Jl. Sosio Humaniora No.1. Bulaksumur Yogyakarta, 55781