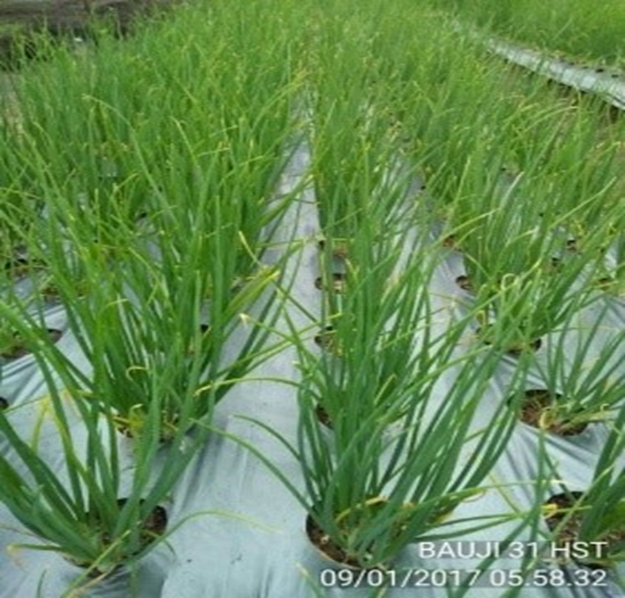 The Growth, Production, and Quality of Shallot at Inland Quartz Sands (Quarzipsamments) in the off Season

https://doi.org/10.22146/ipas.39676
Anang Firmansyah
(1*)
, Andy Bhermana
(2)
(1)&nbspBalai Pengkajian Teknologi Pertanian (BPTP) Kalimantan Tengah
(2)&nbspBalai Pengkajian Teknologi Pertanian (BPTP) Kalimantan Tengah
(*) Corresponding Author
Abstract
The development of shallot cultivation at back quartz sand during rainy or off season  can be considered as new innovation. The objectives of this study is to obtain shallot varieties that are adaptive in terms of the growth, production, and quality parameters. The research was conducted during off season in Palangkaraya. The experimental design used in this research is randomized block design (RBD) 4x3 with 4 treatments of varieties (Maja Cipanas, Tajuk, Bauji and Bima Brebes), and 3 replication for each treatment. The results showed that soil bulk density increased with the deepening of the soil, however soil water content decreased. Based on growth parameter, Tajuk showed the best results and significantly different comparing to Bima Brebes, with plant height consecutively 46.88 cm and 39.52 cm, number of leaves 70.7 and 35.27  and number of shoot 13.43 and 6.60. For production parameter, the weight of varieties of Maja Cipanas, Bauji dan Bima Brebes is 10 grams more than Tajuk with weight is 6,97 grams only. The produstion of Tajuk is low and not significantly different from Bima Brebes, with production is respectively 15.28 ton/ha and 13.31 ton/ha, while the varieties of Bauji showed the highest dry production of 22.4 ton/ha although it is not significantly different with Maja Cipanas that can produce 18.49 ton/ha. For quality parameter,  the varieties of Bima Brebes showed the optimum results in terms of parameter of hardness of tubers and total dissolved solids (TDS) with the value of 4.9 kg /cm2 and 16,42 % respectively.
Keywords
Allium ascalonicum L; back quartz sand soil; off season
References
Anshar, M., Tohari., B.H. Sunarminto and E. Sulistyaningsih. 2011. Pertumbuhan, hasil dan kualitas umbi bawang merah pada kadar air tanah dan ketinggian tempat berbeda. J. Agrivigor, 10: 128-130.
Azmi, C., I.M. Hidayat and W. Wiguna. 2011. Pengaruh varietas dan ukuran umbi terhadap produktivitas bawang merah. J. Hort, 21: 206-213.
BPS. 2014. Kota Palangka Raya dalam Angka 2014. Badan Pusat Statistik Kota Palangka Raya.
Brady, N.C. 1990. The nature and properties of soils. 10th ed., New York: Macmillan Publishing Company.
Budianto., Aris., Ngawit dan Sudika. 2009. Keragaman genetik beberapa sifat dan seleksi klon berulang sederhana pada tanaman bawang merah kultivar Ampenan. Crop Agro, 2: 28-38.
Firmansyah, M. A. dan I. G. P. Wigena. 2017. Keragaan Pertumbuhan, Produksi, dan Klasifikasi Perakaran Tiga Varietas Bawang Merah di Tanah Pasir Bercampur Gambut. Agrisilvika, 1: 14-21.
Firmansyah, M. A., I. Liferdi., N. Khaririyatun dan M. P. Yufdi. 2015. Pertumbuhan dan hasil bawang merah dengan aplikasi pupuk organik dan pupuk hayati pada tanah alluvial. J. Hort, 25: 133-141.
Firmansyah, M. A., D. Musaddad., T. Liana., M. S. Mokhtar dan M. P. Yufdi. 2014. Uji adaptasi bawang merah pada saat musim hujan di Kalimantan Tengah. J. Hort, 24: 114-123.
Hardjowigeno, S. 2003. Ilmu Tanah. Jakarta: Akademika Pressindo, Edisi Baru. .
Haridjaja. O., Y. Hidayat dan L. S. Maryamah. 2010. Pengaruh bobot isi tanah terhadap sifat fisik tanah dan perkecambahan benih kacang tanah dan kedelai. Jurnal Ilmu Pertanian Indonesia, 15: 147-152.
Histafarina., D. Dana dan D. Musaddad. 1998. Pengaruh cara pelayuan daun, pengeringan, pemangkasan daun terhadap mutu dan daya simpan bawang merah. J. Hort, 8: 1036-1047.
Hulzana, M., Muhardi dan Rostati. 2014. Kualitas umbi bawang merah (Allium ascalonicum L.) varietas lembah palu pada berbagai paket perlakuan media tanam di Desa Maku Kecamatan Sigi Biromaru Kabupaten Sigi. E-J. Agrotekbis, 2: 467-473.
Komar, N., Rakhmadiono dan L. Kurnia. 2001. Teknik penyimpanan bawang merah pasca panen di Jawa Timur. Jurnal Teknologi Pertanian, 2: 79-95.
Kusmana., R. S. Basuki dan H. Kurniawan. 2009. Uji adaptasi lima varietas bawang merah asal dataran tinggi dan medium pada ekosistem dataran rendah Brebes. J. Hort, 19: 281-286.
Limbongan, J dan A. Monde. 1999. Pengaruh penggunaan pupuk organik dan anorganik terhadap pertumbuhan dan produksi bawang merah kultivar Palu. J. Hort, 9: 212-219.
Maemunah., T. Wardiyati., B. Guritno and A. N. Sugiarto. 2015. The influence of storage area, storage method and seed quality character on the quality of sallot seed. Int. J. Adv. Res. Biol. Sci, 2: 158-164.
Mutia, A. K., Purwanto, Y. A dan Pujantoro, L. 2014. Perubahan kualitas bawang merah (Allium ascalonicum L.) selama penyimpanan pada tingkat kadar air dan suhu yang berbeda. J. Pascapanen, 11: 108-155.
Nabi, G., A. Rab., Abbas., A J, Farhatullah., F. Munsif dan I. H. Shah. 2010. Influence of different level of potash on the quality, quality and storage life onion bulbs. J. Bot, 42: 1151-2163.
Nabi, G., A. Rab., Sajid., M. Farhatullah., S. J. Abba and I. Ali. 2013. Influence of curing methods and storage condition on the post-harvest quality of onion bulbs. J. Bot, 45: 455-460.
Putrasamedja, S.D. and Soedomo. 2007. Evaluasi bawang merah yang akan dilepas. J. Pembangunan Pedesaan, 7: 133-146.
Rajiman., P. Yudono., E. Sulistyaningsih dan E. Hanudin. 2008. Pengaruh pembenah tanah terhadap sifat fisika tanah dan hasil bawang merah pada lahan pasir pantai Bugel Kabupaten Kulon Progo. Agrin, 12: 67-77.
Satsijati dan E. Koswara. 1993. Studi penerapan formulasi teknologi budidaya cabe dan bawang merah di lahan pasang surut. J. Hort, 3: 13-20.
Sumarni, N., R. Rosliani dan R. S. Basuki. 2012. Respon pertumbuhan, hasil umbi, dan serapan hara NPK tanaman bawang merah terhadap berbagai dosis pemupukan NPK pada tanah Alluvial. J. Hort, 22: 365-374.
Swasono, F. D. H. 2012. Karakteristik fisiologi toleransi tanaman bawang merah terhadap cekaman kekeringan di tanah pasir pantai. Jurnal AgriSains, 3: 88-103.
Wibowo. 2001. Budidaya Bawang Merah. Jakarta: Penebar Swadaya.
Wiyatiningsih, S., A. Wibowo dan E. Triwahyu. 2009a. Tanggapan tujuh kultivar bawang merah terhadap infeksi Fusarium oxysporum f.sp. cepae penyebab penyakit moler. Jurnal Pertanian MAPEA, 12: 7-13.
Wiyatiningsih, S., Wibowo, A dan Triwahyu, E. 2009b. Keparahan penyakit moler pada enam kultivar bawang merah karena infeksi Fusarium oxysporum f.sp. cepae di tiga sentra daerah produksi. Makalah Seminar Nasional Akselerasi pengembangan Teknologi Pertanian dalam Mendukung Revitalisasi Pertanian, Surabaya 2 Desember 2009. UPN "Veteran" Jawa Timur.

DOI:
https://doi.org/10.22146/ipas.39676
---
Article Metrics

Abstract views : 2173 |

views : 4048
Refbacks
There are currently no refbacks.