JURNAL TEKNOSAINS, is a journal which began publication in 2011, and published by the Graduate School of Universitas Gadjah Mada, starting with Vol.1 No.1 December 2011 for printed version and the online version; ISSN (print) 2089-6131 and ISSN (online) 2443-1311. JURNAL TEKNOSAINS is a series of scientific publications in science and technology area from the perspective of a multi and interdisciplinary studies and it is published on each semester in June and December.
For submitting your article, please follow this link and follow the author guidelines in this link to meet our criteria for Jurnal Teknosains. If you need a step by step tutorial for online submission and our journal template, you download it on the right sidebar or scan barcode below: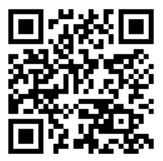 Announcements
No announcements have been published.
Vol 5, No 1 (2015)
Table of Contents
Editorial
Articles
| | | |
| --- | --- | --- |
| | Sri Yuwantiningsih, Sebastian Margino, Subagus Wahyuono | 1-8 |
| | | |
| --- | --- | --- |
| | Erlynda Kumalajati, Sambas Sabarnudi, Budiadi Budiadi, Putu Sudira | 9-19 |
| | | |
| --- | --- | --- |
| | Thomas Sonny Soegiharto, Anna Maria Sri Asih | 20-28 |
| | | |
| --- | --- | --- |
| | Sudarmadji Sudarmadji, Hari Supriyono, Sri Lestari | 36-48 |
| | | |
| --- | --- | --- |
| | Diyah Pramita Sari, Anna Maria Sri Asih | 49-60 |
| | | |
| --- | --- | --- |
| | Yusri Habibah Wahyuni, Budi Hartono | 61-70 |
Book Review