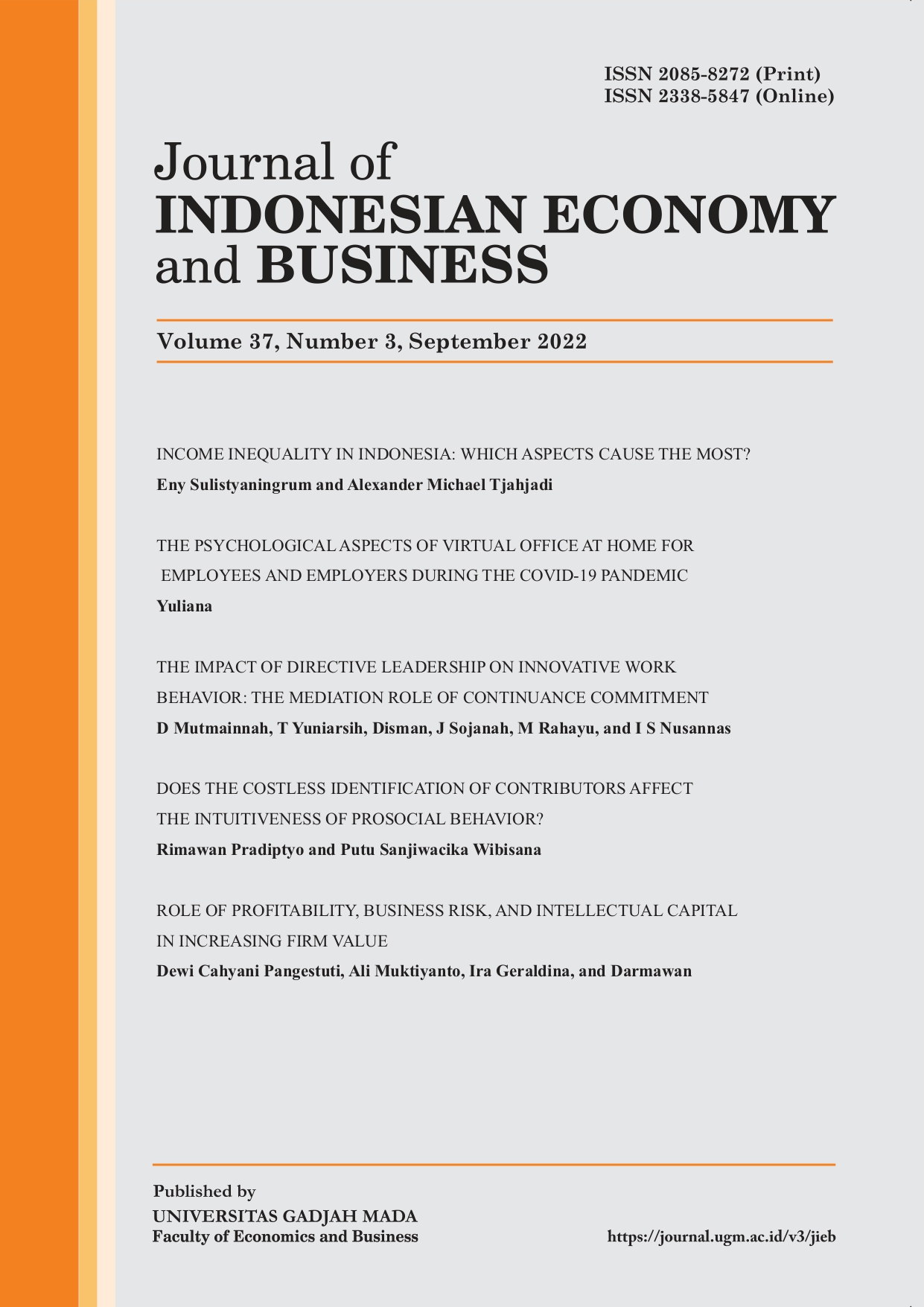 Copyright
Upon acceptance of an article, authors transfer copyright to the JIEB as part of a journal publishing agreement, but authors still have the right to share their article for personal use, internal institutional use, and for any use permitted under the CC BY-SA license
Articles are freely available to the public without any subscription with permitted reuse. For open access articles, permitted third party (re)use is defined by the following Creative Commons user licenses: Creative Commons Attribution (CC BY-SA).
The Psychological Aspects of Virtual Office at Home for Employees and Employers During The COVID-19 Pandemic
Corresponding Author(s) : Yuliana
yuliana@unud.ac.id
Journal of Indonesian Economy and Business, Vol 37 No 3 (2022): September

Abstract
Introduction/Main Objectives: The COVID-19 pandemic has made changes to all aspects of life. Work must be done at home or somewhere outside the office. Although a virtual office is mostly done from one's home, it can be done anywhere. The aim of this paper is to describe the positive and negative psychological aspects when implementing virtual offices at home for employees and employers during the COVID-19 pandemic. Background Problems: A virtual office has commonly been used during the pandemic condition. Many psychological aspects of a virtual office can affect the employee and his/her family. The impacts can be both positive and negative. Research problem: There are negative impacts, from a psychological aspect, of creating a virtual office at home besides the positive values. Novelty: This paper highlights the psycho­logical aspects when implementing a virtual office at home. People often think that working from home has no challenges at all; it is considered to be more flexible and comfortable. On the other hand, working from home has many aspects that should be considered from the employees' and employers' views. Research Methods: This is a narrative literature review. Various types of literature were taken from the Science Direct and Google Scholar databases. Inclusion criteria were research and review articles. Exclusion criteria were un peer-reviewed articles and unavailable full texts. To maintain the quality of the paper, all the articles were read twice. The articles were categorized in a table, summarized, and then narrated. Finding/Results: The positive psychological impacts are flexibility, creativity, and independence. A worker can creatively manage his/her time accordingly, to create a life balance between work and family. The negative psychological impacts are life-work conflicts, burnout, and the autonomy-paradox. Conclusion: The essential keys for a virtual office's implementation are resilience, creativity, flexibility, and adaptation. The use of a virtual office may continue, due to time and financial efficiencies, despite the COVID-19 pandemic ending.
Keywords
COVID-19
home
psychological
virtual office
Yuliana, Y. (2022). The Psychological Aspects of Virtual Office at Home for Employees and Employers During The COVID-19 Pandemic. Journal of Indonesian Economy and Business, 37(3), 254 - 267. https://doi.org/10.22146/jieb.v37i3.2746
Download Citation
Endnote/Zotero/Mendeley (RIS)
BibTeX
References
Adi, M. P. H., & Sukmawati, A. (2020). The Effect of Levers of Control and Leadership Style on Creativity. Journal of Indonesian Economy and Business, 35(3), 236–256.
Arntz, M., Yahmed, S. Ben, & Berlingieri, F. (2020). Working from Home and COVID-19: The Chances and Risks for Gender Gaps. Labour Market, 381–386. https://doi.org/10.1007/s10272-020-0938-5
Badiuzzaman, M., & Rafiquzzaman, M. (2016). Development of " Virtual Office Model " Software for Entrepreneur and e - Management. International Journal of Innovation, Management, and Technology, 7(2), 41–45. https://doi.org/10.18178/ijimt.2016.7.2.642
Boland, B., De Smet, A., Palter, R., & Sanghvi, A. (2020). Reimagining the office and work life after COVID-19. www.mckinsey.com/business-functions/organization/our-insights/reimagining-the-office-and-work-life-after-covid-19
Brem, A., Viardot, E., & Nylund, P. A. (2021). Implications of the coronavirus (COVID-19) outbreak for innovation: Which techno¬logies will improve our lives ? Techno¬lo¬gical Forecasting & Social Change, 163, 1–7. https://doi.org/10.1016/j.techfore.2020.120451
Brynjolfsson, E., Horton, J. J., Ozimek, A., Rock, D., Sharma, G., & Ye, H. Y. T. (2020). Covid-19 and remote work: An early look at US data. Bureau of Economic Research., 115, 1–25. http://www.nber.org/papers/w27344
Carnevale, J. B., & Hatak, I. (2020). Employee adjustment and well-being in the era of COVID-19: Implications for human resource management. Journal of Business Research, 116, 183–187. https://doi.org/10.1016/j.jbusres.2020.05.037
Chanana, N., & Sangeeta. (2020). Employee engagement practices during COVID-19 lockdown. J Public Affairs, 1–8. https://doi.org/10.1002/pa.2508
Chawla, N., MacGowan, R. L., Gabriel, A. S., & Podsakoff, N. P. (2020). Unplugging or staying connected? Examining the nature , antecedents , and consequences of profiles of daily recovery experiences. Journal of Applied Psychology, 105(1), 19–39. https://doi.org/10.1037/apl0000423
Diamantidis, A. D., & Chatzoglou, P. (2019). Factors affecting employee performance: an empirical approach. International Journal of Productivity and Performance Management, 68(1), 171–193. https://doi.org/10.1108/IJPPM-01-2018-0012
Donthu, N., & Gustafsson, A. (2020). Effects of COVID-19 on business and research. Journal of Business Research, 117(2020), 284–289. https://doi.org/https:doi.org/10.1016/j.jbusres.2020.06.008
Fauzan, & Jahja, A. S. (2021). Intellectual Dynamics of Good Governance Studies: A Bibliometric Analysis. Journal of Indo-nesian Economy and Business, 36(2), 155–178.
Giones, F., Brem, A., Pollack, J. M., & Michaelis, T. (2020). Revising entrepre-neurial action in response to exogenous shocks: Considering the COVID-19 pandemic. Journal of Business Venturing Insights, 1–23. https://doi.org/10.1016/j.jbvi.2020.e00186
Graves, L. M., & Karabayeva, A. (2020). Managing Virtual Workers — Strategies for Success. IEEE Engineering Management Review, 48(2), 166–172. https://doi.org/10.1109/EMR.2020.2990386
Gunesse, Saileshsingh Subramanian, N. (2020). Ambiguity and its coping mechanisms in supply chains: lessons from the COVID ­ 19 pandemic and natural disasters. International Journal of Operations and Production Management, 40(7), 1201–1223.
Heidenreich, S., & Talke, K. (2020). Conse-quences of mandated usage of innovations in organizations: Developing an innovation decision model of symbolic and forced adoption. AMS Review, 1–20. https://doi.org/10.1007/s13162-020-00164-x
Heryani, H., Legowo, A. C., & Nugroho, I. P. (2020). Strategi Pengembangan Industri Kreatif untuk Inovasi. Jurnal Teknologi Industri Pertanian, 30(3), 290–298.
Irwanto, & Irwansyah. (2020). Pendekatan Social Construction of Technology untuk Teknologi Pendidikan di Indonesia. Media Komunikasi FPIPS, 19(1), 28–41.
Ivanov, D. (2021). Supply Chain Viability and the COVID-19 Pandemic: A Conceptual and Formal Generalisation of Four Major Adaptation Strategies. International Journal of Production Research, March, 1–10. https://doi.org/10.1080/00207543.2021.1890852
Ivanov, D., Dolgui, A., & Sokolov, B. (2018). The impact of digital technology and Industry 4.0 on the ripple effect and supply chain risk analytics. Int. J. Prod. Res, 57(3), 829–846. https://doi.org/10.1080/00207543.2018.1488086
Klein, H. K., & Kleinman, D. L. (2002). The Social Construction of Technology : Structural Considerations The Social Construction of Technology: Structural Considerations. Science, Technology & Human Values, 27(1), 28–52. https://doi.org/10.1177/016224390202700102
Kossek, E. E., & Lee, K. (2021). ScienceDirect Work-life Inclusion for Women's Career Equality: Why it Matters and What to Do About It. Organizational Dynamics, 1–11. https://doi.org/10.1016/j.orgdyn.2020.100818
Kurniawan, D. T., Kusnayain, Y. I., Aulisaina, F. I., & Hakim, M. A. R. (2021). Exploring The Existance of Innovative Work Behavior among Government Employee: Have Been There? Journal of Indonesian Economy and Business, 36(3), 272–282.
Kwok, A. O. J., & Koh, S. G. M. (2020). Deepfake : a social construction of tech-nology perspective. Current Issue in Tourism, March, 1–5. https://doi.org/10.1080/13683500.2020.1738357
Madja, N. M. El. (2021). New Media and Social Construction of Technology (SCOT) on Cak Ed Online Delivery Service in Lamongan Regency. Jurnal Dakwah Dan Sosial, 4(01), 79–95. https://doi.org/10.37680/muharrik.v3i02.819
Manolova, T. S., Brush, C. G., Edelman, L. F., & Elam, A. (2020). Pivoting to stay the course : How women entrepreneurs take advantage of opportunities created by the COVID-19 pandemic. International Small Business Journal: Researching Entrepre¬neurship, 1–11. https://doi.org/10.1177/0266242620949136
Narayanamurthy, G., & Tortorella, G. (2021). Impact of COVID-19 outbreak on employee performance – Moderating role of industry 4 . 0 base technologies. International Journal of Production Economics, 234, 1–10. https://doi.org/10.1016/j.ijpe.2021.108075
Naser, H., Devi, N. K., & Wahdini, N. (2022). Calibrating The Final Results Of The Hay System Of Job Evaluation Using Urgency, Seriousness ,And Growth (USG) Analysis In Indonesia. Journal of Indonesian Economy and Business, 37(1), 73–91.
Negoro, M. C. W., & Wibowo, A. (2021). Empathetic Leadership, Job Satisfaction and Intention to Leave Among Millennials in A Start-Up Industry: Needs' Satisfaction as A Mediating Variable. Journal of Indonesian Economy and Business, 36(2), 136–154.
Newman, S. A., & Ford, R. C. (2020). ScienceDirect Five Steps to Leading Your Team in the Virtual COVID-19 Workplace. Organizational Dynamics, 1–11. https://doi.org/10.1016/j.orgdyn.2020.100802
Olsen, T. L., & Tomlin, B. (2020). Industry 4.0: Opportunities and Challenges for Opera¬tions. Manuf. Serv. Oper. Manag., 22(1), 113–122.
Pan, S. L., Cui, M., & Qian, J. (2020). Information resource orchestration during the COVID-19 pandemic: A study of com¬munity lockdowns in China. International Journal of Information Management., 54(2020), 102143. https://doi.org/https://doi.org/10.1016/j.ijinfomgt.2020.102143
Ralph, P., Baltes, S., Adisaputri, G., Torkar, R., Kovalenko, V., Kalinowski, M., Novielli, N., Yoo, S., Devroey, X., Tan, X., Zhou, M., Turhan, B., & Hoda, R. (2020). Pandemic programming How COVID-19 affects software developers and how their organizations can help. Empirical Software Engineering. https://doi.org/10.1007/s10664-020-09875-y.
Richter, S., & Richter, A. (2020). Digital Nomads. Business & Information Systems Engineering, 62(1), 77–81. https://doi.org/10.1007/s12599-019-00615-1
Whillans, A., Perlow, L., & Turek, A. (2021). Information and Organization Expe-rimenting during the shift to virtual team work: Learnings from how teams adapted their activities during the COVID-19 pandemic. Information and Organization, 31(1), 1–12. https://doi.org/10.1016/j.infoandorg.2021.100343
Zhang, S., Moeckel, R., & Moreno, T. (2020). A work-life conflict perspective on telework. Transp Res Part A Policy Prac, 999, 51–68. https://doi.org/10.1016/j.tra.2020.09.007