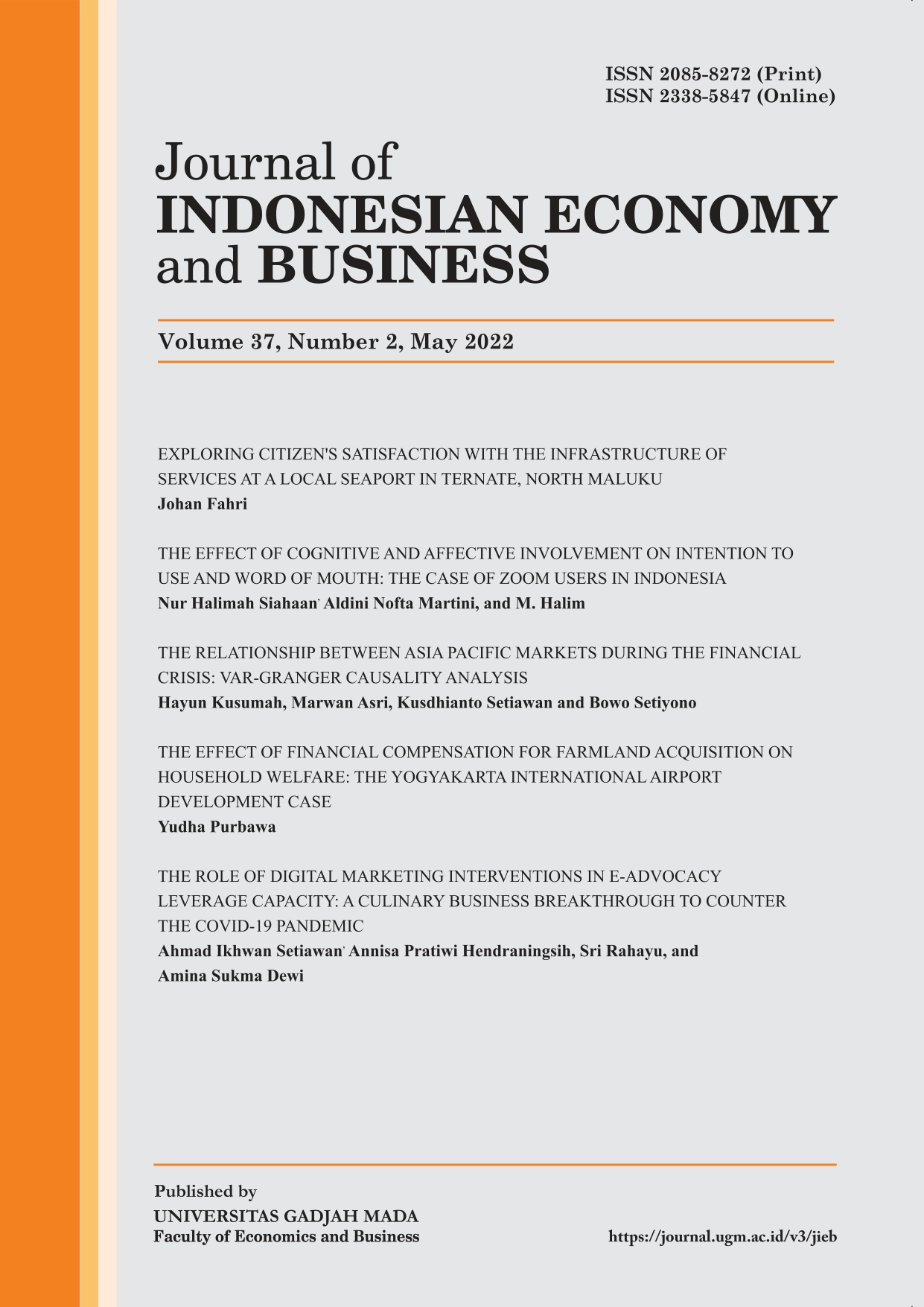 Issue
This work is licensed under a Creative Commons Attribution-ShareAlike 4.0 International License.
Copyright
Upon acceptance of an article, authors transfer copyright to the JIEB as part of a journal publishing agreement, but authors still have the right to share their article for personal use, internal institutional use, and for any use permitted under the CC BY-SA license
Articles are freely available to the public without any subscription with permitted reuse. For open access articles, permitted third party (re)use is defined by the following Creative Commons user licenses: Creative Commons Attribution (CC BY-SA).
Exploring Citizen's Satisfaction with the Infrastructure of Services at a Local Seaport in Ternate, North Maluku
Corresponding Author(s) : Johan Fahri
johan.fahri@unkhair.ac.id
Journal of Indonesian Economy and Business, Vol 37 No 2 (2022): May

Abstract
Main objective: This research aims to explore the aspects of citizen satisfaction with basic government infrastructures, using a specific seaport as the site for the research. Background problems: Their impacts of on people's lives of basic infrastructures that the Indonesian government is currently developing should be measured, particularly how satisfied citizens are with these infrastructures. Extant literature indicates there has been limited discussion using qualitative research—which has mainly used the grounded theory approach—to understand citizen satisfaction. This context has rarely been used to explore users' satisfaction with the local seaport. Novelty: This current research offers theoretically grounded and real aspects of citizen satisfaction that lead to a testable model to enrich a comprehensive conversation of customer satisfaction in the public sector. Methods: This research has used a grounded theory approach to define and explore, in depth, the main aspects of satisfaction felt by citizens who are the customers frequently using the seaport to enable their mobility between the islands. Results: The results identify five main aspects of citizen satisfaction when using local seaports. These aspects were used to revisit the dimensions of SERVQUAL. The sentiments of the users were also recognized and analyzed as a part of an overall evaluation of the satisfaction. Conclusion: While previous studies have provided a great deal of evidence on citizen satisfaction, the results of this study are drawn from an in-depth examination of those earlier pieces of evidence, including those regarding emotions and sentiments. Future studies are also recommended to overcome some of the limitations of this research.
Keywords
citizen satisfaction
grounded theory
Fahri, J. (2022). Exploring Citizen's Satisfaction with the Infrastructure of Services at a Local Seaport in Ternate, North Maluku. Journal of Indonesian Economy and Business, 37(2), 103-135. https://doi.org/10.22146/jieb.v37i2.3449
Download Citation
Endnote/Zotero/Mendeley (RIS)
BibTeX
References
A. Parasuraman, Zeithaml, Valarie A Berry, L. L. (1985). A conceptual model of service quality and its implications for future research. Journal of Marketing, 49(4), 41–50.
Abdullah, H. S., & Kalianan, M. (2008). From customer satisfaction to citizen satisfaction: rethinking local government service delivery in Malaysia. Asian Social Science, 4(11), 87–92.
Adel, R., & Wiesner, S. A. (2015). Conceptual approach for value driven performance in servitising companies. International Journal of Services and Operations Management, 21(4), 504–531.
Agnihotri, R., Dingus, R., Hu, M. Y., & Krush, M. T. (2016). Social media: Influencing customer satisfaction in B2B sales. Industrial Marketing Management, 53, 172–180.
Akinboade, O. A., Kinfack, E. C., & Mokwena, M. P. (2012). An analysis of citizen satisfaction with public service delivery in the Sedibeng district municipality of South Africa. International Journal of Social Economics.
Alalwan, A. A., Rana, N. P., Dwivedi, Y. K., & Algharabat, R. (2017). Social media in marketing: A review and analysis of the existing literature. Telematics and Informatics, 34(7), 1177–1190.
Ali, M., & Raza, S. A. (2017). Service quality perception and customer satisfaction in Islamic banks of Pakistan: the modified SERVQUAL model. Total Quality Management & Business Excellence, 28(5–6), 559–577.
Ambrose, S., Huston, T., & Norman, M. (2005). A qualitative method for assessing faculty satisfaction. Research in Higher Education, 46(7), 803–830.
Basfirinci, C., & Mitra, A. (2015). A cross cultural investigation of airlines service quality through integration of Servqual and the Kano model. Journal of Air Transport Management, 42, 239–248.
Basir, M., Modding, B., Kamase, J., & Hasan, S. (2015). Effect of Service Quality, Orientation Services, and Pricing on Loyalty and Customer Satisfaction on Marine Transportation Services. International Journal of Humanities and Social Science Invention, 4(6), 1–6.
BPS. (2019). Kota Ternate Dalam Angka 2015. In P. M. U. Badan Pusat Statistik (Ed.), Katalok BPS. Badan Pusat Statistik, Provinisi Maluku Utara.
Burrell, G., & Morgan, G. (1979). Sociological paradigms and organisational analysis: Elements of the sociology of corporate life. Routledge.
Buttle, F. (1996). SERVQUAL: review, critique, research agenda. European Journal of Marketing.
Chang, C.-H., & Thai, V. V. (2016). Do port security quality and service quality influence customer satisfaction and loyalty? Maritime Policy & Management, 43(6), 720–736.
Charmaz, K. (2014). Constructionism and the grounded theory method. In J. A. Holstein & J. F. Gubrium (Eds.), Handbook of constructionist research (Vol. 1, Issue 1, pp. 397–412). Guilford Publications.
Cheng, B.-L., & Rashid, M. Z. A. (2013). Service Quality and the Mediating Effect of Corporate Image on the Relationship between Customer Satisfaction and Customer Loyalty in the Malaysian Hotel Industry. Gadjah Mada International Journal of Business, 15(2).
Creswell, J. W. (2012). Qualitative inquiry and research design: Choosing among five approaches. Sage publications.
Daunorienė, A., & Žekevičienė, A. (2015). A reference model of public institutions' quality practices, citizens' satisfaction and performance quality. Inžinerinė Ekonomika, 422–430.
Deng, W.-J., Yeh, M. L., & Sung, M. L. (2013). A customer satisfaction index model for international tourist hotels: Integrating consumption emotions into the American Customer Satisfaction Index. International Journal of Hospitality Management, 35, 133–140.
Etikan, I., Musa, S. A., & Alkassim, R. S. (2016). Comparison of convenience sampling and purposive sampling. American Journal of Theoretical and Applied Statistics, 5(1), 1–4.
Galeeva, R. B. (2016). SERVQUAL application and adaptation for educational service quality assessments in Russian higher education. Quality Assurance in Education.
Gao, Y., Rasouli, S., Timmermans, H., & Wang, Y. (2018). Trip stage satisfaction of public transport users: A reference-based model incorporating trip attributes, perceived service quality, psychological disposition and difference tolerance. Transportation Research Part A: Policy and Practice, 118, 759–775.
Ghobehei, M., Sadeghvaziri, F., Ebrahimi, E., & Bakeshloo, K. A. (2019). The effects of perceived brand orientation and perceived service quality in the higher education sector. Eurasian Business Review, 9(3), 347–365.
Ghosh, P., & Ojha, M. K. (2017). Determining passenger satisfaction out of platform-based amenities: A study of Kanpur Central Railway Station. Transport Policy, 60, 108–118.
Glaser, B. G., & Straus, A. L. (1967). The discovery of grounded theory: Strategies for qualitative research: New York: Adline.
Grove, S. K., Burns, N., & Gray, J. (2012). The practice of nursing research: Appraisal, synthesis, and generation of evidence. Elsevier Health Sciences.
Hemalatha, S., Dumpala, L., & Balakrishna, B. (2018). Service quality evaluation and ranking of container terminal operators through hybrid multi-criteria decision making methods. The Asian Journal of Shipping and Logistics, 34(2), 137–144. https://doi.org/https://doi.org/10.1016/j.ajsl.2018.06.010
Hu, L., Wen, J., Yu, H., Zhu, Y., & Du, Y. (2017). Research on Public Satisfaction Index Model of Urban Management Informatization. 2017 International Conference on Advanced Materials Science and Civil Engineering (AMSCE 2017).
Huang, Z., & Du, X. (2015). Assessment and determinants of residential satisfaction with public housing in Hangzhou, China. Habitat International, 47, 218–230.
Ilieska, K. (2013). Customer satisfaction index–as a base for strategic marketing manage¬ment. TEM Journal, 2(4), 327.
Kamaruzzaman, S. N., & Zawawi, E. M. A. (2010). Development of facilities manage¬ment in Malaysia. Journal of Facilities Management.
Kim, Y. K., & Lee, H. R. (2011). Customer satisfaction using low cost carriers. Tourism Management, 32(2), 235–243.
Klopper, H. (2008). The qualitative research proposal. Curationis, 31(4), 62–72.
Koga, T., & Kaminishi, K. (2013). Modeling and Simulation of Product Service Systems for Design and Innovation. Journal on Innovation and Sustainability. RISUS ISSN 2179-3565, 4(1), 3–15.
Kolanović, I., Dundović, Č., & Jugović, A. (2011). Customer-based port service quality model. Promet-Traffic&Transportation, 23(6), 495–502.
Kotler, P., Keller, K. L., Ancarani, F., & Costabile, M. (2014). Marketing manage-ment 14/e. Pearson.
KSOP. (2018). Laporan Jumlah Penumpang (K. K. dan O. P. (KSOP) K. I. I. Ternate (ed.)). Kantor Kesyahbandaran dan Otoritas Pelabuhan (KSOP) Kelas II Ternate.
Lenka, U., Suar, D., & Mohapatra, P. K. J. (2010). Customer satisfaction in Indian commercial banks through total quality management approach. Total Quality Management, 21(12), 1315–1341.
Long, T., & Johnson, M. (2000). Rigour, reliability and validity in qualitative research. Clinical Effectiveness in Nursing, 4(1), 30–37.
Lu, C., Berchoux, C., Marek, M. W., & Chen, B. (2015). Service quality and customer satisfaction: qualitative research implica-tions for luxury hotels. International Journal of Culture, Tourism and Hospitality Research.
Maccarthy, M., O'neill, M., & Williams, P. (2006). Customer satisfaction and scuba-diving: Some insights from the deep. The Service Industries Journal, 26(5), 537–555.
Maxwell, J. A. (2012). Qualitative research design: An interactive approach. Sage publications.
Millonig, A., Sleszynski, M., & Ulm, M. (2012). Sitting, waiting, wishing: Waiting time perception in public transport. 2012 15th International IEEE Conference on Intelligent Transportation Systems, 1852–1857.
Moodley, P. (2012). A communication perspective on the challenges faced by key government sectors in the application and adoption of Batho Pele principles: A case study of Addington and RK Khan hospitals". University of Zululand.
Morfoulaki, M., Papanikolaou, A., & Kapros, S. (2012). Intelligent policy recommendations on ports administration: Introducing a business model approach for the evaluation of ports' services. Procedia-Social and Behavioral Sciences, 48.
Morse, J. M. (2010). Sampling in grounded theory. The SAGE Handbook of Grounded Theory, 229–244.
Morton, C. (2018). Appraising the market for bicycle sharing schemes: Perceived service quality, satisfaction, and behavioural intention in London. Case Studies on Transport Policy, 6(1), 102–111.
Nakamura, H., & Managi, S. (2020). Effects of subjective and objective city evaluation on life satisfaction in Japan. Journal of Cleaner Production, 256, 120523.
Oxford Dictionary. (2020). Oxford Learners' Dictionary. In Oxford Learners' Dictionary. Oxford Press.
Pak, J. Y., Thai, V. V, & Yeo, G. T. (2015). Fuzzy MCDM approach for evaluating intangible resources affecting port service quality. The Asian Journal of Shipping and Logistics, 31(4), 459–468.
Pansiri, J., & Mmereki, R. N. (2010). Using the SERVQUAL model to evaluate the impact of public service reforms in the provision of primary health care in Botswana. Journal of African Business, 11(2), 219–234.
Pantouvakis, A. (2010). The relative importance of service features in explaining customer satisfaction. Managing Service Quality: An International Journal.
Papalexi, M. (2017). An investigation into the aspects of innovation within the downstream domain of the pharmaceutical supply chain. University of Huddersfield.
Parasuraman, A., Zeithaml, V. A., & Berry, L. L. (1988). Servqual: A multiple-item scale for measuring consumer perceptions of service quality. Journal of Retailing, 64(1), 5–6.
Pham, X. (2016). Investigating the success of rural infrastructure development projects in Vietnam. RMIT.
Pullman, M., & Rodgers, S. (2010). Capacity management for hospitality and tourism: A review of current approaches. International Journal of Hospitality Management, 29(1), 177–187.
Rezaei, J., Kothadiya, O., Tavasszy, L., & Kroesen, M. (2018). Quality assessment of airline baggage handling systems using SERVQUAL and BWM. Tourism Manage¬ment, 66, 85–93.
Robert, T., & Charmaz, K. (2013). Grounded Theory and Theoretical Coding. The Sage Handbook of Qualitative Data Analysis.
Sayareh, J., Iranshahi, S., & Golfakhrabadi, N. (2016). Service quality evaluation and ranking of container terminal operators. The Asian Journal of Shipping and Logistics, 32(4), 203–212.
Soelasih, Y. (2015). Is physical evidence still valid? A study of low cost carriers in Indonesia. Gadjah Mada International Journal of Business, 17(3), 203.
Souca, M. L. (2011). SERVQUAL–Thirty years of research on service quality with implications for customer satisfaction. Marketing from Information to Decision, 4, 420–429.
Strenitzerová, M., & Gaňa, J. (2018). Customer satisfaction and loyalty as a part of customer-based corporate sustainability in the sector of mobile communications services. Sustainability, 10(5), 1657.
Sun, K.-A., & Kim, D.-Y. (2013). Does customer satisfaction increase firm performance? An application of American Customer Satisfaction Index (ACSI). International Journal of Hospitality Management, 35, 68–77.
Supriyadi, S. (2010). The Moderating Effect of Procedural Justice on the Effectiveness of the Balanced Scorecard in Improving Managerial Performance through Organi-zational Commitment. Gadjah Mada International Journal of Business, 12(3), 415–434.
Tan, K. W., & Lim, K. T. (2019). Impact of Manufacturing Flexibility on Business Performance: Malaysian's Perspective. Gadjah Mada International Journal of Business, 21(3), 308–329.
Thai, V. V. (2016). The impact of port service quality on customer satisfaction: The case of Singapore. Maritime Economics & Logistics, 18(4), 458–475.
Van de Walle, S. (2018). Explaining citizen satisfaction and dissatisfaction with public services. In The Palgrave handbook of public administration and management in Europe (pp. 227–241). Springer.
Wai, S. H., Aminah, M. Y., & Syuhaida, I. (2013). Social infrastructure project success criteria–An exploratory study. International Journal of Construction Management, 13(3), 95–104.
Whiting, L. S. (2008). Semi-structured interviews: guidance for novice researchers. Nursing Standard (through 2013), 22(23), 35.
Wirasinghe, S. C., Kattan, L., Rahman, M. M., Hubbell, J., Thilakaratne, R., & Anowar, S. (2013). Bus rapid transit–a review. International Journal of Urban Sciences, 17(1), 1–31.
Yap, C.-S., Lim, Y.-M., & Lee, T.-H. (2013). Explaining IT Outsourcing Satisfaction using Domberger's Theory: An SME Perspective. Gadjah Mada International Journal of Business, 15(1).
Yoshida, M., & James, J. D. (2010). Customer satisfaction with game and service experiences: Antecedents and consequences. Journal of Sport Management, 24(3), 338–361.
Zenker, S., & Rütter, N. (2014). Is satisfaction the key? The role of citizen satisfaction, place attachment and place brand attitude on positive citizenship behavior. Cities, 38, 11–17.
Zhao, Q., Xu, H., Wall, R. S., & Stavropoulos, S. (2017). Building a bridge between port and city: Improving the urban compe¬titiveness of port cities. Journal of Transport Geography, 59, 120–133.
Zhong, Z., & Duan, Y. (2018). Empirical study on the evaluation model of public satisfaction with typhoon disaster information disclosure. Kybernetes, 47(9). https://doi.org/https://doi.org/10.1108/K-09-2017-0341
A. Parasuraman, Zeithaml, Valarie A Berry, L. L. (1985). A conceptual model of service quality and its implications for future research. Journal of Marketing, 49(4), 41–50.
Abdullah, H. S., & Kalianan, M. (2008). From customer satisfaction to citizen satisfaction: rethinking local government service delivery in Malaysia. Asian Social Science, 4(11), 87–92.
Adel, R., & Wiesner, S. A. (2015). Conceptual approach for value driven performance in servitising companies. International Journal of Services and Operations Management, 21(4), 504–531.
Agnihotri, R., Dingus, R., Hu, M. Y., & Krush, M. T. (2016). Social media: Influencing customer satisfaction in B2B sales. Industrial Marketing Management, 53, 172–180.
Akinboade, O. A., Kinfack, E. C., & Mokwena, M. P. (2012). An analysis of citizen satisfaction with public service delivery in the Sedibeng district municipality of South Africa. International Journal of Social Economics.
Alalwan, A. A., Rana, N. P., Dwivedi, Y. K., & Algharabat, R. (2017). Social media in marketing: A review and analysis of the existing literature. Telematics and Informatics, 34(7), 1177–1190.
Ali, M., & Raza, S. A. (2017). Service quality perception and customer satisfaction in Islamic banks of Pakistan: the modified SERVQUAL model. Total Quality Management & Business Excellence, 28(5–6), 559–577.
Ambrose, S., Huston, T., & Norman, M. (2005). A qualitative method for assessing faculty satisfaction. Research in Higher Education, 46(7), 803–830.
Basfirinci, C., & Mitra, A. (2015). A cross cultural investigation of airlines service quality through integration of Servqual and the Kano model. Journal of Air Transport Management, 42, 239–248.
Basir, M., Modding, B., Kamase, J., & Hasan, S. (2015). Effect of Service Quality, Orientation Services, and Pricing on Loyalty and Customer Satisfaction on Marine Transportation Services. International Journal of Humanities and Social Science Invention, 4(6), 1–6.
BPS. (2019). Kota Ternate Dalam Angka 2015. In P. M. U. Badan Pusat Statistik (Ed.), Katalok BPS. Badan Pusat Statistik, Provinisi Maluku Utara.
Burrell, G., & Morgan, G. (1979). Sociological paradigms and organisational analysis: Elements of the sociology of corporate life. Routledge.
Buttle, F. (1996). SERVQUAL: review, critique, research agenda. European Journal of Marketing.
Chang, C.-H., & Thai, V. V. (2016). Do port security quality and service quality influence customer satisfaction and loyalty? Maritime Policy & Management, 43(6), 720–736.
Charmaz, K. (2014). Constructionism and the grounded theory method. In J. A. Holstein & J. F. Gubrium (Eds.), Handbook of constructionist research (Vol. 1, Issue 1, pp. 397–412). Guilford Publications.
Cheng, B.-L., & Rashid, M. Z. A. (2013). Service Quality and the Mediating Effect of Corporate Image on the Relationship between Customer Satisfaction and Customer Loyalty in the Malaysian Hotel Industry. Gadjah Mada International Journal of Business, 15(2).
Creswell, J. W. (2012). Qualitative inquiry and research design: Choosing among five approaches. Sage publications.
Daunorienė, A., & Žekevičienė, A. (2015). A reference model of public institutions' quality practices, citizens' satisfaction and performance quality. Inžinerinė Ekonomika, 422–430.
Deng, W.-J., Yeh, M. L., & Sung, M. L. (2013). A customer satisfaction index model for international tourist hotels: Integrating consumption emotions into the American Customer Satisfaction Index. International Journal of Hospitality Management, 35, 133–140.
Etikan, I., Musa, S. A., & Alkassim, R. S. (2016). Comparison of convenience sampling and purposive sampling. American Journal of Theoretical and Applied Statistics, 5(1), 1–4.
Galeeva, R. B. (2016). SERVQUAL application and adaptation for educational service quality assessments in Russian higher education. Quality Assurance in Education.
Gao, Y., Rasouli, S., Timmermans, H., & Wang, Y. (2018). Trip stage satisfaction of public transport users: A reference-based model incorporating trip attributes, perceived service quality, psychological disposition and difference tolerance. Transportation Research Part A: Policy and Practice, 118, 759–775.
Ghobehei, M., Sadeghvaziri, F., Ebrahimi, E., & Bakeshloo, K. A. (2019). The effects of perceived brand orientation and perceived service quality in the higher education sector. Eurasian Business Review, 9(3), 347–365.
Ghosh, P., & Ojha, M. K. (2017). Determining passenger satisfaction out of platform-based amenities: A study of Kanpur Central Rail¬way Station. Transport Policy, 60, 108–118.
Glaser, B. G., & Straus, A. L. (1967). The discovery of grounded theory: Strategies for qualitative research: New York: Adline.
Grove, S. K., Burns, N., & Gray, J. (2012). The practice of nursing research: Appraisal, synthesis, and generation of evidence. Elsevier Health Sciences.
Hemalatha, S., Dumpala, L., & Balakrishna, B. (2018). Service quality evaluation and ranking of container terminal operators through hybrid multi-criteria decision making methods. The Asian Journal of Shipping and Logistics, 34(2), 137–144. https://doi.org/https://doi.org/10.1016/j.ajsl.2018.06.010
Hu, L., Wen, J., Yu, H., Zhu, Y., & Du, Y. (2017). Research on Public Satisfaction Index Model of Urban Management Informatization. 2017 International Conference on Advanced Materials Science and Civil Engineering (AMSCE 2017).
Huang, Z., & Du, X. (2015). Assessment and determinants of residential satisfaction with public housing in Hangzhou, China. Habitat International, 47, 218–230.
Ilieska, K. (2013). Customer satisfaction index–as a base for strategic marketing manage¬ment. TEM Journal, 2(4), 327.
Kamaruzzaman, S. N., & Zawawi, E. M. A. (2010). Development of facilities manage¬ment in Malaysia. Journal of Facilities Management.
Kim, Y. K., & Lee, H. R. (2011). Customer satisfaction using low cost carriers. Tourism Management, 32(2), 235–243.
Klopper, H. (2008). The qualitative research proposal. Curationis, 31(4), 62–72.
Koga, T., & Kaminishi, K. (2013). Modeling and Simulation of Product Service Systems for Design and Innovation. Journal on Innovation and Sustainability. RISUS ISSN 2179-3565, 4(1), 3–15.
Kolanović, I., Dundović, Č., & Jugović, A. (2011). Customer-based port service quality model. Promet-Traffic&Transportation, 23(6), 495–502.
Kotler, P., Keller, K. L., Ancarani, F., & Costabile, M. (2014). Marketing manage-ment 14/e. Pearson.
KSOP. (2018). Laporan Jumlah Penumpang (K. K. dan O. P. (KSOP) K. I. I. Ternate (ed.)). Kantor Kesyahbandaran dan Otoritas Pelabuhan (KSOP) Kelas II Ternate.
Lenka, U., Suar, D., & Mohapatra, P. K. J. (2010). Customer satisfaction in Indian commercial banks through total quality management approach. Total Quality Management, 21(12), 1315–1341.
Long, T., & Johnson, M. (2000). Rigour, reliability and validity in qualitative research. Clinical Effectiveness in Nursing, 4(1), 30–37.
Lu, C., Berchoux, C., Marek, M. W., & Chen, B. (2015). Service quality and customer satisfaction: qualitative research implications for luxury hotels. International Journal of Culture, Tourism and Hospitality Research.
Maccarthy, M., O'neill, M., & Williams, P. (2006). Customer satisfaction and scuba-diving: Some insights from the deep. The Service Industries Journal, 26(5), 537–555.
Maxwell, J. A. (2012). Qualitative research design: An interactive approach. Sage publications.
Millonig, A., Sleszynski, M., & Ulm, M. (2012). Sitting, waiting, wishing: Waiting time perception in public transport. 2012 15th International IEEE Conference on Intelli¬gent Transportation Systems, 1852–1857.
Moodley, P. (2012). A communication perspective on the challenges faced by key government sectors in the application and adoption of Batho Pele principles: A case study of Addington and RK Khan hospitals". University of Zululand.
Morfoulaki, M., Papanikolaou, A., & Kapros, S. (2012). Intelligent policy recommendations on ports administration: Introducing a business model approach for the evaluation of ports' services. Procedia-Social and Behavioral Sciences, 48.
Morse, J. M. (2010). Sampling in grounded theory. The SAGE Handbook of Grounded Theory, 229–244.
Morton, C. (2018). Appraising the market for bicycle sharing schemes: Perceived service quality, satisfaction, and behavioural intention in London. Case Studies on Transport Policy, 6(1), 102–111.
Nakamura, H., & Managi, S. (2020). Effects of subjective and objective city evaluation on life satisfaction in Japan. Journal of Cleaner Production, 256, 120523.
Oxford Dictionary. (2020). Oxford Learners' Dictionary. In Oxford Learners' Dictionary. Oxford Press.
Pak, J. Y., Thai, V. V, & Yeo, G. T. (2015). Fuzzy MCDM approach for evaluating intangible resources affecting port service quality. The Asian Journal of Shipping and Logistics, 31(4), 459–468.
Pansiri, J., & Mmereki, R. N. (2010). Using the SERVQUAL model to evaluate the impact of public service reforms in the provision of primary health care in Botswana. Journal of African Business, 11(2), 219–234.
Pantouvakis, A. (2010). The relative importance of service features in explaining customer satisfaction. Managing Service Quality: An International Journal.
Papalexi, M. (2017). An investigation into the aspects of innovation within the downstream domain of the pharmaceutical supply chain. University of Huddersfield.
Parasuraman, A., Zeithaml, V. A., & Berry, L. L. (1988). Servqual: A multiple-item scale for measuring consumer perceptions of service quality. Journal of Retailing, 64(1), 5–6.
Pham, X. (2016). Investigating the success of rural infrastructure development projects in Vietnam. RMIT.
Pullman, M., & Rodgers, S. (2010). Capacity management for hospitality and tourism: A review of current approaches. International Journal of Hospitality Management, 29(1), 177–187.
Rezaei, J., Kothadiya, O., Tavasszy, L., & Kroesen, M. (2018). Quality assessment of airline baggage handling systems using SERVQUAL and BWM. Tourism Manage¬ment, 66, 85–93.
Robert, T., & Charmaz, K. (2013). Grounded Theory and Theoretical Coding. The Sage Handbook of Qualitative Data Analysis.
Sayareh, J., Iranshahi, S., & Golfakhrabadi, N. (2016). Service quality evaluation and ranking of container terminal operators. The Asian Journal of Shipping and Logistics, 32(4), 203–212.
Soelasih, Y. (2015). Is physical evidence still valid? A study of low cost carriers in Indonesia. Gadjah Mada International Journal of Business, 17(3), 203.
Souca, M. L. (2011). SERVQUAL–Thirty years of research on service quality with implications for customer satisfaction. Marketing from Information to Decision, 4, 420–429.
Strenitzerová, M., & Gaňa, J. (2018). Customer satisfaction and loyalty as a part of customer-based corporate sustainability in the sector of mobile communications services. Sustainability, 10(5), 1657.
Sun, K.-A., & Kim, D.-Y. (2013). Does customer satisfaction increase firm performance? An application of American Customer Satisfaction Index (ACSI). International Journal of Hospitality Management, 35, 68–77.
Supriyadi, S. (2010). The Moderating Effect of Procedural Justice on the Effectiveness of the Balanced Scorecard in Improving Managerial Performance through Organiza¬tional Commitment. Gadjah Mada Interna¬tional Journal of Business, 12(3), 415–434.
Tan, K. W., & Lim, K. T. (2019). Impact of Manufacturing Flexibility on Business Performance: Malaysian's Perspective. Gadjah Mada International Journal of Business, 21(3), 308–329.
Thai, V. V. (2016). The impact of port service quality on customer satisfaction: The case of Singapore. Maritime Economics & Logistics, 18(4), 458–475.
Van de Walle, S. (2018). Explaining citizen satisfaction and dissatisfaction with public services. In The Palgrave handbook of public administration and management in Europe (pp. 227–241). Springer.
Wai, S. H., Aminah, M. Y., & Syuhaida, I. (2013). Social infrastructure project success criteria–An exploratory study. International Journal of Construction Management, 13(3), 95–104.
Whiting, L. S. (2008). Semi-structured inter-views: guidance for novice researchers. Nursing Standard (through 2013), 22(23), 35.
Wirasinghe, S. C., Kattan, L., Rahman, M. M., Hubbell, J., Thilakaratne, R., & Anowar, S. (2013). Bus rapid transit–a review. International Journal of Urban Sciences, 17(1), 1–31.
Yap, C.-S., Lim, Y.-M., & Lee, T.-H. (2013). Explaining IT Outsourcing Satisfaction using Domberger's Theory: An SME Perspective. Gadjah Mada International Journal of Business, 15(1).
Yoshida, M., & James, J. D. (2010). Customer satisfaction with game and service experien¬ces: Antecedents and consequences. Journal of Sport Management, 24(3), 338–361.
Zenker, S., & Rütter, N. (2014). Is satisfaction the key? The role of citizen satisfaction, place attachment and place brand attitude on positive citizenship behavior. Cities, 38, 11–17.
Zhao, Q., Xu, H., Wall, R. S., & Stavropoulos, S. (2017). Building a bridge between port and city: Improving the urban compe¬titiveness of port cities. Journal of Transport Geography, 59, 120–133.
Zhong, Z., & Duan, Y. (2018). Empirical study on the evaluation model of public satis¬faction with typhoon disaster information disclosure. Kybernetes, 47(9). https://doi.org/https://doi.org/10.1108/K-09-2017-0341