Buletin Peternakan telah mendapat Akreditasi Terbitan Berkala Ilmiah Cetak Nasional dari DIKTI sejak tanggal 23 Mei 2016 berdasarkan keputusan Direktur Jendral Penguatan Riset dan Pengembangan Kementrian Riset, Teknologi, dan Pendidikan Tinggi RI Nomor : 36a/E/KPT/2016.
========================================
Bulletin of Animal Science is published every four months. Bulletin receives original papers in animal science and technology which are not published at any other journals.
========================================
Buletin Peternakan terbit setiap empat bulan sekali. Redaksi menerima naskah asli yang berkaitan dengan ilmu dan teknologi peternakan yang belum pernah diterbitkan di media lainnya.
How to :
 |****************************************************************|
Terbitan terbaru :
Berikut ini adalah terbitan terbaru dari Buletin Peternakan :
Announcements
No announcements have been published.
Vol 40, No 2 (2016): BULETIN PETERNAKAN VOL. 40 (2) JUNI 2016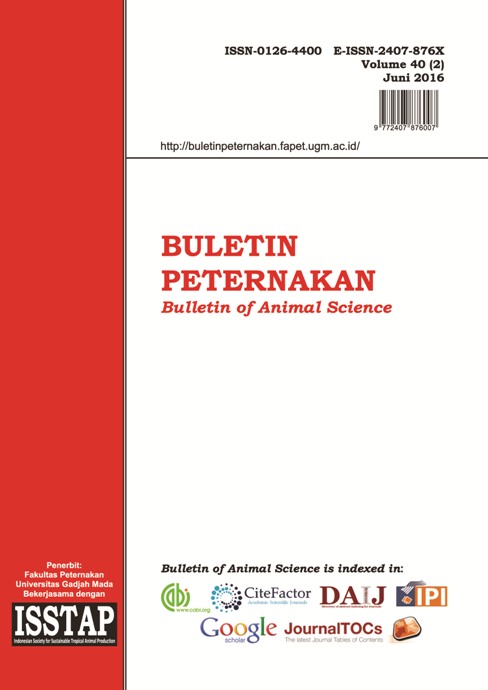 Klik pada gambar untuk mengetahui daftar isi dan abstrak
Pemesanan Buletin Peternakan dalam bentuk Hard Copy/Cetak dapat dilakukan dengan menghubungi di : Buletin Peternakan, Fakultas Peternakan UGM, Jl. Fauna No.3, Bulaksumur, Kampus UGM, Yogyakarta, Indonesia, 55281