Journal of Community Empowerment for Health (ISSN 2655-0164 (online); ISSN 2654-8283 (print)) is a national, open access, multidisciplinary, and peer-reviewed journal. We aim to publish research articles and reviews on educative, promotive, preventive and community empowerment activities in the health sector, especially rural area.
Published twice a year on research topics about community empowerment, service, and community health services as its main scope. This includes:
Medicine and rural community health which includes: health care, social medicine, epidemiology, medical anthropology, occupational medicine
Community based education
Community service
Disaster response
Submitting to the journal
JCOEMPH uses an online submission and peer review platform, which allows authors to track the progress of their manuscript and enables shorter processing times. Only submissions made through this platform are accepted, with submitting authors required to create a JCOEMPH account. Manuscripts submitted by any other means are automatically discarded. For more information on our submission system, please refer to the Author Guidelines.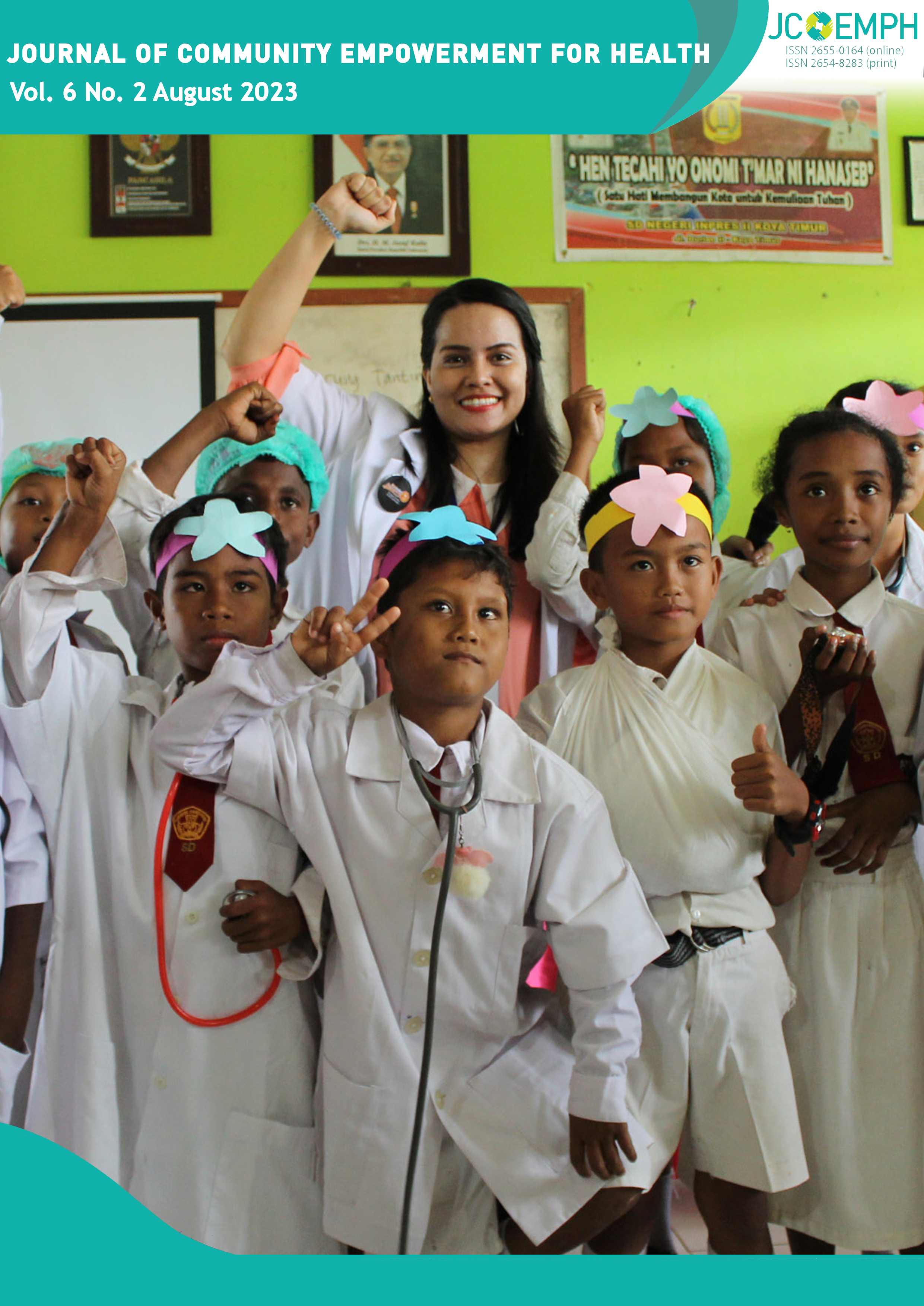 Announcements
JCOEMPH Vol.2 No.2 has been published

The second issue of JCOEMPH Volume 2 (December 2019) has been published. Visit the 

dedicated page for this issue

 to read the articles now. You can also 

visit our archives

 page to catch up on previous issues.

Posted: 2020-01-01

JCOEMPH is going to move up!

To promote bigger impact with author's research and help reach more readers, starting from the July 2019 edition, full-text papers must be submitted in English.

Posted: 2019-08-29
Vol 2, No 2 (2019)
Full Issue
| | |
| --- | --- |
| View or download the full issue | PDF |
Table of Contents
Original Research Articles
Sumarni Sumarni, Adi Heru Sutomo, Cempaka Tursina, Purwanta Purwanta, Ade Indah Wahdini, Nanda Kusumaningrum

10.22146/jcoemph.41273

Abstract views : 129 |

views : 66

110-119
Widyandana Widyandana, Tutik Kusdaryanti, Dimas Septian Eko Wahyu Sumunar, Dianing Pratiwi, Fitriana Fitriana, Nandyan Sulaksana Nugraha, Vita Yanti Anggreni, Gandes Retno Rahayu

10.22146/jcoemph.41725

Abstract views : 256 |

views : 274

120-127
Suhartini - suhartini, Sri Awalia Febriani, IBG. Surya Putra Pidada, Hendro Widagdo, Martiana Suciningtyas, Yudha Nurhantari, Dewanto Yusuf Priyambodo, Agus Surono, Roto Roto, Geraldine Nadita Putri Kinasih, Pramudji Hastuti, Sri Sutarni

10.22146/jcoemph.42250

Abstract views : 143 |

views : 44

128-136
Itsna Abidah Mardiyah, Tantut Susanto, Latifa Aini Susumaningrum

10.22146/jcoemph.43739

Abstract views : 270 |

views : 35

143-150
Arum Tri Wahyuningsih, Fuad Anshori, Elizabeth Henny Herningtyas, Tri Ratnaningsih

10.22146/jcoemph.44003

Abstract views : 93 |

views : 132

151-158
Siti Helmyati, Emy Huriyati, Setyo Utami Wisnusanti, Maria Wigati

10.22146/jcoemph.46265

Abstract views : 162 |

views : 66

159-165
Sak Liung, Carla Raymondalexas Marchira, Irwan Supriyanto, Mahar Agusno, Soewadi Soewadi, Sumarni Sumarni

10.22146/jcoemph.48193

Abstract views : 256 |

views : 129

181-189
Agnes Bhakti Pratiwi, Hermawati Setiyaningsih, Rizki Mahardya, Firdaus Hafidz, Diah Ayu Puspandari

10.22146/jcoemph.47592

Abstract views : 186 |

views : 55

190-197
Edo Prabudi Thamrin, Risma Kristi Utami, Fabianto Santoso, Ayu Ashari Thamrin, Siti Syahral Ain, Trevino Aristarkus Pakasi

10.22146/jcoemph.46965

Abstract views : 156 |

views : 83

198-207
Luh Gede Pradnyawati, Komang Triyani Kartinawati, Dewa Ayu Putu Ratna Juwita

10.22146/jcoemph.47019

Abstract views : 177 |

views : 70

208-216
Diannisa Ikarumi Enisar Sangun, Dea Aryas Nugrahani, Khansa Anindya, Niken Kuntolowati

10.22146/jcoemph.47707

Abstract views : 102 |

views : 25

217-221
Fatikhu Yatuni Asmara, Saekhol Bakri, Dian Puspita Dewi, Diana Nur Afifah, Tri Nur Kristina

10.22146/jcoemph.47513

Abstract views : 135 |

views : 84

222-228
Review Articles
Muhamad Jauhar, I Gusti Ayu Putu Desy Rohana, Utami Rachmawati, Lita Heni Kusumawardani, Rasdiyanah Rasdiyanah

10.22146/jcoemph.47148

Abstract views : 257 |

views : 137

172-180