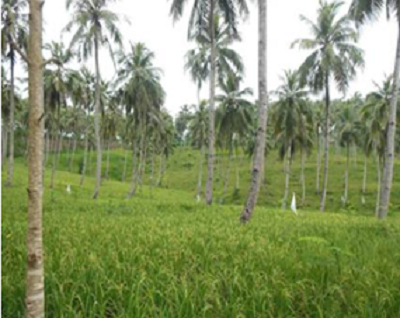 Augmented analysis for yield performance and agronomic characteristics of upland rice lines grown under coconut plantation

https://doi.org/10.22146/ipas.65548
Angelita Puji Lestari
(1*)
, Aris Hairmansis
(2)
, Rini Hermanasari
(3)
, Yullianida Yullianida
(4)
, Suwarno Suwarno
(5)
(1)&nbspIndonesian Center for Rice Research Jln. Raya 9, Sukamandi, Subang, West Java 41256
(2)&nbspIndonesian Center for Rice Research Jln. Raya 9, Sukamandi, Subang, West Java 41256
(3)&nbspIndonesian Center for Rice Research Jln. Raya 9, Sukamandi, Subang, West Java 41256
(4)&nbspIndonesian Center for Rice Research Jln. Raya 9, Sukamandi, Subang, West Java 41256
(5)&nbspIndonesian Center for Rice Research Jln. Raya 9, Sukamandi, Subang, West Java 41256
(*) Corresponding Author
Abstract
Establishment of shade-tolerant rice varieties aims to utilize the dry land under tree stands. A field experiment on rice yield under coconut plantation was conducted at farmer field in Calincing Tegalbuleud Sukabumi, West Java, Indonesia. The experiment involved 307 upland promising lines, 42 of which were selected in comparison to four check varieties, namely Jatiluhur, Batutugi, Limboto and Situpatenggang. The experiment was conducted according to augmented design with four replications. The analysis of variance indicated significant difference in yield per ha between blocks and no significant differences in days to flowering, plant height and number of productive tiller between blocks. Meanwhile, significant differences were observed in plant height and number of productive tillers between all check varieties. Under shade of coconut plantation, some lines could perform better and had higher performance than check varieties. Four lines ofB11957SR* 232182SI2MR2PN21, B12743MR18232PN1111, B13498D9, and B12743MR18235PN1031 had significantly higher yield compared to the check variety with the highest yield, which is Limboto. The utperforming lines can be proposed as promising rice lines for shading tolerance. However, most of the lines were proved to be underperforming for yield and its components in prevailing conditions.
Keywords
observation; promising lines; shade tolerant; upland rice
References
Barus, J. (2013). Pemanfaatan lahan di bawah tegakan kelapa di Lampung. Jurnal Lahan Suboptimal, 2(1), pp. 68-74.
Dilnesaw, Z., Abadi, S., and Getahun, A. (2013). Genetic variability and heritability of soybean (Glycine max (L.) Merrill) genotypes in Pawe district, Metekel zone, Benishangule Gumuz regional state, Northwestern Ethiopia. Wudpecker Journal of Agricultural Research, 2(9), pp. 68-74.
Ginting, J., Damanik, B. S. J., Sitanggang, J. M., and Muluk, C. (2015). Effect of shade, organic materials and varieties on growth and production of upland rice. International Journal of Scientific & Technology Research, 4(1), pp. 68-74.
Goto, E. and Kumagai, S. (2009). The effect of temperature and shading on notched-belly rice kernel in Hokkaido rice variety 'Nanatsuboshi'. Japan Intenational Crop Science, 78(1), pp. 35–42.
Liu, Q. H., Li, T., and Zhang, J. J. (2006). Effect of shading at the early stage on the growth of function leaves at the grain filling stage and quality in rice. Chinese Journal of Ecology, 20(10), pp. 1167–1172.
Liu, Q. H., Zhou, X. B., Yang, L. Q., Li, T., and Zhang, J. J. (2009). Effects of early growth stage shading on rice flag leaf physiological characters and grain growth at grain-filling stage. Chinese Journal of Applied Ecology, 20(9), pp. 2135–2141.
Li, H.W., Jiang, D., Wollenweber, B., Dai, T.B., and Cao, W.X. (2010). Effects of shading on morphology, physiology and grain yield of winter wheat. European Journal of Agronomy, 33, pp. 267-275.
Saleem, M. Y., Asghar, M., and Iqbal, Q. (2013). Augmented analysis for yield and some yield components in tomato (Lycopersicon esculentum mill.). Pakistan Journal of Botany, 45(1), pp. 215-218.
Sopandie, D. (2006). Perspektif fisiologi dalam pengembangan tanaman pangan di lahan marjinal. Orasi Ilmiah Guru Besar, Institut Pertanian Bogor, 16 September 2006, pp. 100.
Sopandie, D. and Trikoesoemaningtyas. (2011). Pengembangan tanaman sela di bawah tegakan tanaman tahunan. Iptek Tanaman Pangan, 6(2), pp. 168-182.
Susanto, G. W. A. and Sundari, T. (2011). Perubahan karakter agronomi aksesi plasma nutfah kedelai di lingkungan ternaungi. Jurnal Agronomi Indonesia, 39(1), pp. 1-6. Sutaryo, B. (2013). Penampilan agro-morfologi dan parameter genetik 12 genotip padi di sawah berpengairan teknis. Ilmu Pertanian (Agricultural Science), 17(1), pp. 13-24
Wang, L., Deng, F., and Ren, W.J. (2015). Shading tolerance in rice is related to better light harvesting and use efficiency and grain filling rate during grain filling period. Field Crop Research, 180, pp. 54-62.
Wang, L., Deng, F., Ren, W.J., and Yang, W.Y. (2013). Effects of shading on starch pasting characteristics of indica hybrid rice (Oryza sativa L.). PLoS ONE. 8e68220.
Wijaya, A. A., Rahayu, H.D., Oksifa, A. R. H., Rachmadi, M., and Karuniawan, A. (2015). Penampilan karakter agronomi 16 genotip kedelai (Glycine max l. Merrill) pada pertanaman tumpangsari dengan jagung (Zea mays l.) pola 3:1. Jurnal Agro, 2(2), pp. 30-40.

DOI:
https://doi.org/10.22146/ipas.65548
---
Article Metrics

Abstract views : 639 |

views : 465
Refbacks
There are currently no refbacks.