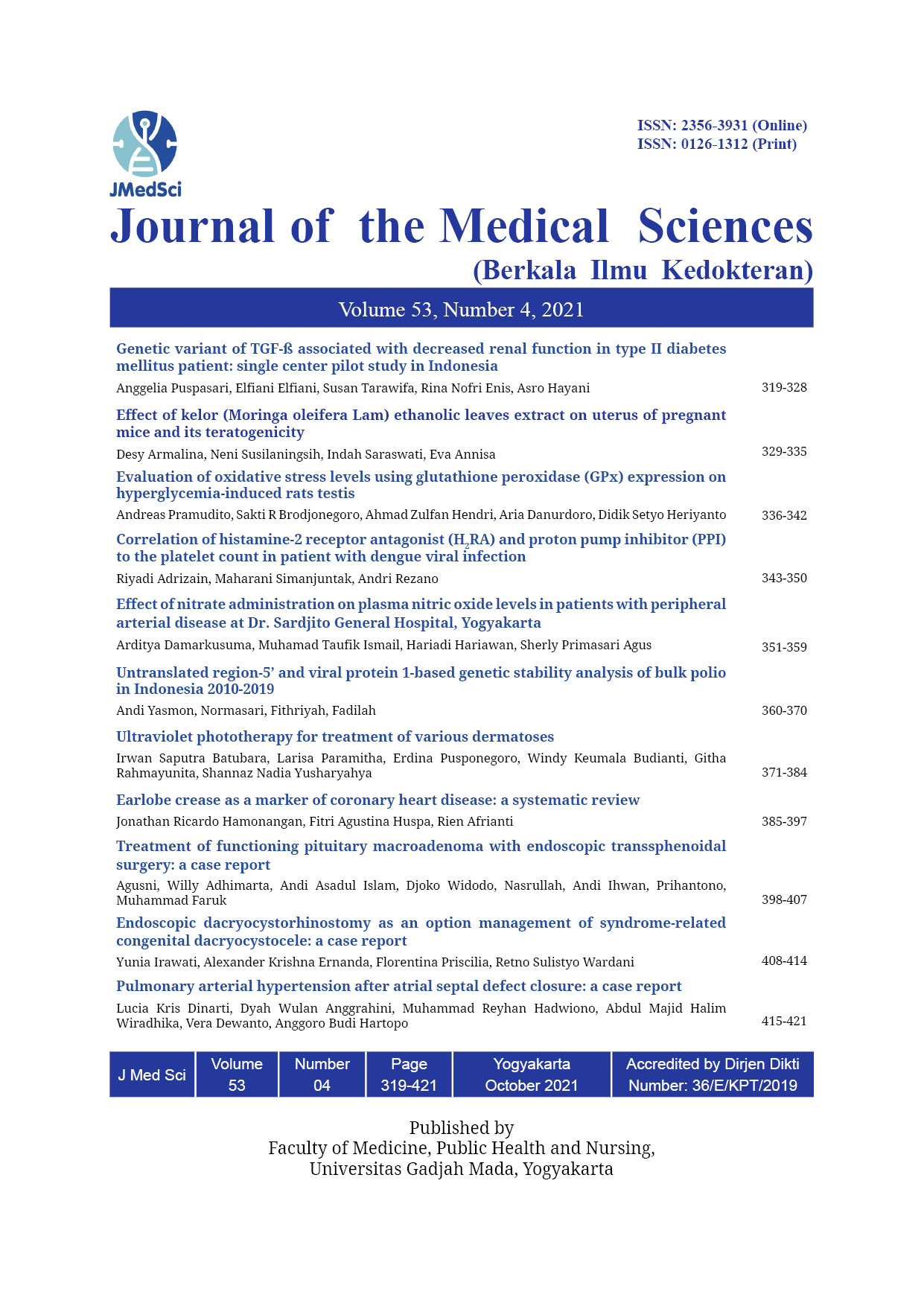 Journal of the Medical Sciences
(JMedSci) or
 Berkala Ilmu Kedokteran
 (BIK) is 
an international, open-access, and double-blind peer-reviewed journal,
published by Faculty of Medicine, Public Health and Nursing, Universitas Gadjah Mada Yogyakarta Indonesia.
JMedSci aiming to communicate high-quality articles in the areas of biomedical science from basic to clinical sciences. The journal welcomes papers from original articles, case reports, reviews, and book reviews. All papers published in JMedSci are freely available as downloadable pdf files.
The journal began its publication on March 1973 and published quarterly (January, April, July, and October).
JMedSci is abstracted and indexed in DOAJ, Crossref, Google Scholar, Sinta, Indonesia One Search. JMedSci is accredited by Directorate of General Higher Education, the Ministry of Research, Technology, and Higher Education, Indonesia
Journal of the Medical Sciences
Available online at http://jurnal.ugm.ac.id/bik
Email: jmedscie@ugm.ac.id

Published by Universitas Gadjah Mada
ISSN: 0126-1312 (Print)
ISSN: 2356-3931 (Online)

From January 1st, 2021, accepted articles will be charged with the article processing charge (APC) of $50, while the submission fee remains free.
Announcements
No announcements have been published.
Vol 55, No 2 (2023)
Table of Contents
Articles
Shadab Maqsood, Inzimam Wani, Omair Shah, Tariq Gojwari, Zubaida Rasool, Bashir Laway, Shujaut Farooq

10.19106/JMedSci005502202302

Abstract views : 339 |

views : 199
Hendry Purnasidha Bagaswoto, Ferdinandus Bayu Satria, Hani Khairina, Nahar Taufik, Budi Yuli Setianto

10.19106/JMedSci005502202303

Abstract views : 216 |

views : 215
Diana Samara, Magdalena Wartono, Nany Hairunisa, Lie T. Merijanti, Alvin M. Ridwan, Ridwan Harrianto

10.19106/JMedSci005502202305

Abstract views : 192 |

views : 126
Nadiya Husna Aliya, Neni Trilusiana Rahmawati, Janatin Hastuti, Sri Awalia Febriana

10.19106/JMedSci005502202306

Abstract views : 412 |

views : 337
Megawati Abubakar, Anggoro Budi Hartopo, Ika Trisnawati, Eko Budiono, Dyah Wulan Anggrahini, Lucia Kris Dinarti

10.19106/JMedSci005502202307

Abstract views : 207 |

views : 169
Istan Irmansyah Irsan, Satria Pandu Persada Isma, Alifian Alifian, Muhammad Alwy Sugiarto

10.19106/JMedSci005502202308

Abstract views : 161 |

views : 120