Diplomatika: Journal of Applied Archival Science is an open access published two issues a year and scholarly journal dedicated to the publication of novel research in all aspects of applied archival science, with particular attention paid to the exploration and development of records and information management (RIM) and archives management. The journal only accepts research-based papers featuring well-designed studies with clearly analyzed and logically interpreted results, either Bahasa Indonesia or English.
The journal is published by Unit Kerjasama, Alumni, Publikasi dan PPM, Departemen Bahasa, Seni, dan Manajemen Budaya, Sekolah Vokasi Universitas Gadjah Mada. It is nationally accredited SINTA 4 by the Directorate General of Research and Development of the Ministry of Research, Technology, and Higher Education, Republic of Indonesia, Decree No. 28/E/KPT/2019, valid until 2024.
The journal welcomes author from any institutional backgrounds. For more information on our submission system, please refer to the Submission Guidelines.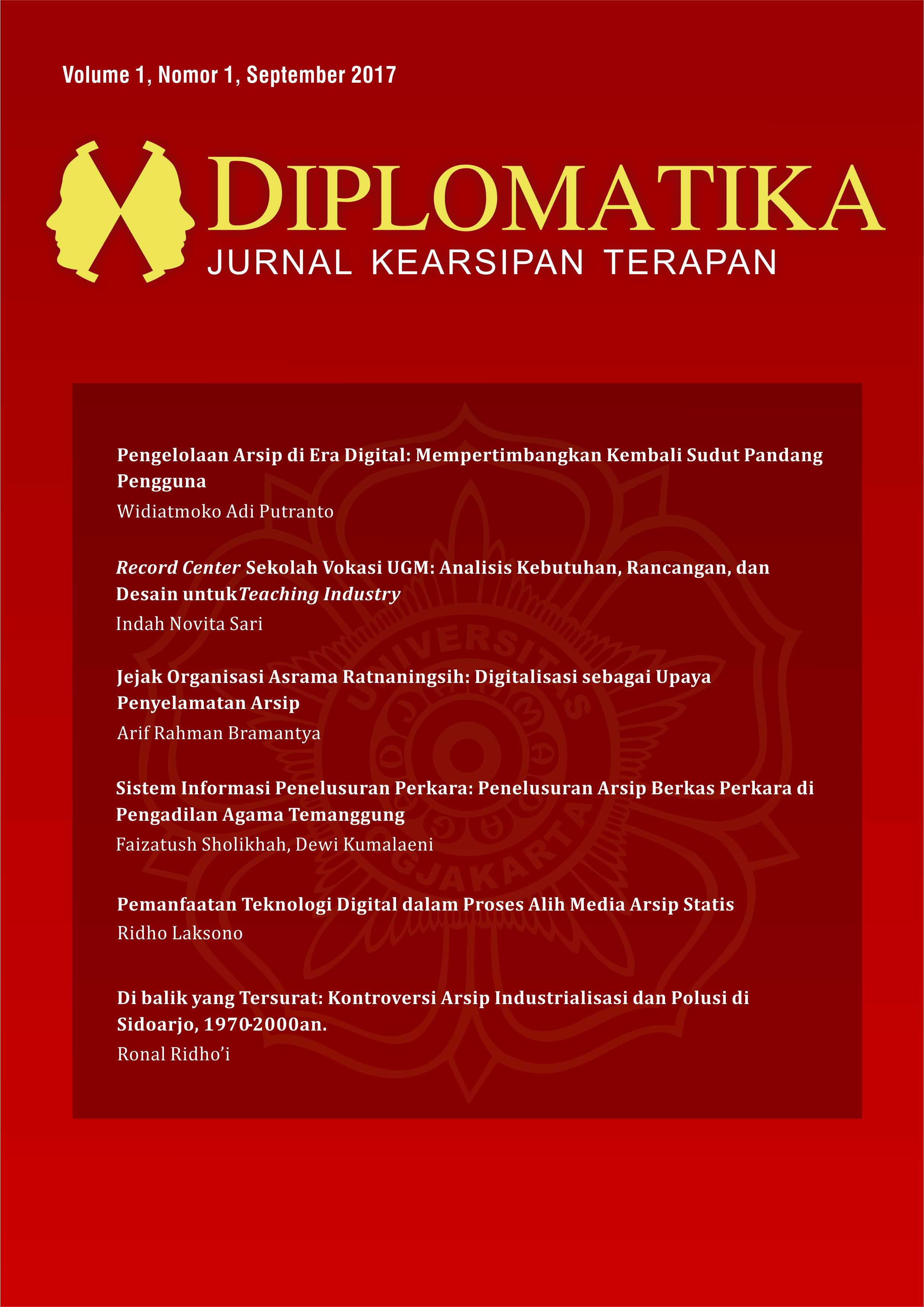 Announcements
Call for papers Vol. 6 No. 2 (2023) dan Vol. 7 No. 1 (2023)

Diplomatika: Jurnal Kearsipan Terapan, a national accredited scientific journal in Indonesia, invites authors to submit their manuscript in Vol. 6 No. 2 (2023) and Vol. 7 No. 1 (2023)

. Please kindly follow our author guidelines to submit the manuscript.

Posted: 2023-03-28

Upcoming Edition

Diplomatika solicits manuscript submissions which tally to our focus and scope. We invite authors in the related fields of applied archival science to submit articles for the upcoming edition.

We're pleased to announce that Diplomatika has been accepted for inclusion in Dimensions Database effective 2 September 2018. This inclusion as a part of our continued efforts to develop Diplomatika into the ideal platform for the publication of studies in archival science particularly those originating from Indonesia, which will always be an ongoing process of self-evaluation and refinement. As such, this marks an important step in the progress of our journal. 

Diplomatika utilizes Online Journal System which requires all authors to register through online submission system. Author allows to track their submissions progress and enables shorter processing time. Only manuscripts submitted through Online Journal System are accepted. Please read the guidelines carefully, as manuscripts which do not follow the guidelines will be rejected by editors from further reviewing. Authors without an Diplomatika account are required to create an account first before submitting. Make sure that you choose "Author" from the Role dropdown menu.

Posted: 2018-05-01
Vol 6, No 1 (2022): September
Table of Contents
Articles
Alifia Cahyaningtyas Aritra, andi asari, Kusubakti Andajani

10.22146/diplomatika.68285

Abstract views : 306 |

views : 144

27-36
Ikhtiar Anugrah Hidayat, Irfan Rizky Darajat, Faizatush Sholikhah

10.22146/diplomatika.83517

Abstract views : 24 |

views : 8

57-68
Desti Delfia, Riche Chintya Johan, Linda Setiawati, Angga Hadiapurwa, A. Ardiansah, Hafsah Nugraha

10.22146/diplomatika.81207

Abstract views : 375 |

views : 312

69-77