Indonesian Journal of Chemistry is an International, peer-reviewed, open-access journal that publishes original research articles, review articles, and short communication in all chemistry areas, including applied chemistry. The journal is 

accredited

 by The Ministry of Research and Technology/National Agency for Research and Innovation (RISTEK-BRIN) 

No.: 85/M/KPT/2020 

(in First Rank) and indexed by Scopus since 2012. In 2018 and 2019 (Volumes 18 and 19, respectively) Indonesian Journal of Chemistry publish four issues (numbers) annually (February, May, August, and November). Due to the large number of qualified papers accepted, to speed up the publication of the scientific and valuable research results, since 2020 (Volume 20) Indonesian Journal of Chemistry increase the frequency of issues to be six numbers annually (February, April, June, August, October, and December).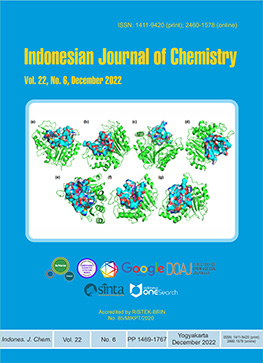 Announcements
What have we done to improve the quality of our journals?

As a consequence of being indexed on Scopus and ESCI, the manuscripts we received increased during the 2010-2019 period. Details were given in Fig. 1. This increase is a formidable challenge. On the one hand, we are under pressure from authors who demand short review times and short waiting times for publication. On the other hand, we must strictly maintain the quality of the articles we publish (Fig. 2).

 

Figure 1. Number of Manuscript Received vs Accepted (2010-2019)

 

Figure 2. Rate of Article Acceptance (%) (2010-2019)

The following are the steps we have taken to guarantee and improve the quality of the published article:

Since 2017 we have used the Open Journal System (OJS) on all article management functions and facilities to manage articles more conveniently. The editors can supervise each other through the system. Also, editors can quickly monitor the performance of reviewers and authors.
We implement a more stringent filter at an early stage to reject inappropriate manuscripts to proceed to the review process. We have determined a minimum standard for articles to continue the review process.
We conduct strict plagiarism checks on manuscripts that we deem appropriate to proceed to the review process using professional software.
We hold editor training and discussion forums to improve editors' ability to handle manuscripts and synchronize mindsets in decision-making.
We invite editors with proven expertise from various countries and they are willing to help us voluntarily
We invite scientists from various countries as reviewers. Therefore, we really thank you for their commitment to voluntarily reviewing the articles.
We evaluate the review results from reviewers. As a result, our review time is relatively long; the average for the 2015-2019 period is 4-5 months (Fig. 3).
We do the copyediting stage carefully for articles that have been accepted. This step is needed to prevent substantial errors that are missed in the review process. Copyediting is also very useful to improve the readability of articles, the feasibility of illustrations, the suitability of citations and references, etc. This process takes an average of 3-4 weeks.
We improve the quality of the layout of articles with stringent standards so that the appearance of each article in each volume becomes uniform. We always try to shorten the time for article layout while maintaining quality.
We carry out the proofreading stage by the author and editor as a final check uploading the article in an online system —the time required at this stage is, on average, 2-3 weeks.
Finally, we post it in the "articles in press" section. Author and editor still have a chance to make revisions if they find unnecessary errors.
We are taking into account the waiting time between articles accepted to publish, which is sharply increased in the 2015-2019 period (from 4.3 to 8.8 months), see Fig 2. Through careful calculation, we manage the number of articles for each year's publication. Therefore, we increased the number of articles gradually from 43, 51, 68, 100, and 120. In 2020, we plan to publish 150 articles, which is distributed into 6 issues. The distribution of countries of origin of the authors for the 2015-2019 period is shown in Fig. 5

 

Figure 3. Average review time in the period of 2015-2019 (in weeks)

 

Figure 4. Average of waiting time from accepted to published (in months)

 

Figure 5. Distribution of Authors' Countries of Origin (2015-2019)
Posted: 2020-07-08

Publication Frequency and call for paper

After publishing four issues since volume 18 (2018), the number of submitted papers increases significantly.  Therefore, to speed up qualified articles to be published internationally, Indonesian Journal of Chemistry publishes six issues (

numbers

) annually (February, April, June, August, October, and December) since 2020 (Volume 20). Therefore, we invite all authors to submit your qualified manuscripts of original research articles, reviews, short communication in our Journal. Within two months (longest) from submission, the decision of acceptance or rejection has been made. Submission is only via online.

Posted: 2019-12-17
Vol 23, No 2 (2023)
Accredited by RISTEK-BRIN No.: 85/M/KPT/2020 (April 1, 2020)

Table of Contents
Articles
Ahmad Suseno, Karna Wijaya, Edy Heraldy, Lukman Hakim, Wahyu Dita Saputri, Gunawan Gunawan

10.22146/ijc.70460

Abstract views : 1156 |

views : 585

285-297
Triyono Triyono, Wega Trisunaryanti, Iip Izul Falah, Lailatul Rahmi

10.22146/ijc.73746

Abstract views : 719 |

views : 340 |

views : 253

298-308
Hayat Hamza Abbas, Majeed Yacoob Al-Luaibi, Mohammed Jassem Al-Assadi

10.22146/ijc.75582

Abstract views : 794 |

views : 450

309-320
Andriana Kusuma Pertiwi, Choirin Annisa, Zubaidah Ningsih, Anna Safitri

10.22146/ijc.76821

Abstract views : 913 |

views : 535

321-332
Fattima Al-Zahra Gabar Gassim, Ali Jabbar Jasim Makkawi

10.22146/ijc.76872

Abstract views : 650 |

views : 377

333-340
Dhamiaa Abdul-Shaheed Issa, Hayder Baqer Abdullah, Faeza Abdulkareem Al-Mashal

10.22146/ijc.77276

Abstract views : 776 |

views : 351 |

views : 237

341-348
Iyan Sopyan, Nurdiani Adiningsih, Sandra Megantara, Siska Sari Marvita

10.22146/ijc.77698

Abstract views : 826 |

views : 495

349-357
Fitriari Izzatunnisa Muhaimin, Sari Edi Cahyaningrum, Riska Amelia Lawarti, Dina Kartika Maharani

10.22146/ijc.77853

Abstract views : 750 |

views : 372

358-369
Arum Kurnia Sari, Ghina Nur Fadhilah, Irkham Irkham, Muhammad Yusuf, Shabarni Gaffar, Yeni Wahyuni Hartati

10.22146/ijc.77887

Abstract views : 689 |

views : 350

370-382
Saja Abdulhadi Alattar, Khalid Ajmi Sukkar, May Ali Alsaffar

10.22146/ijc.78271

Abstract views : 553 |

views : 365

383-394
Muhammad Bagas Ananda, Fathan Aditya Sanjaya, Tami Bachrurozy, Helmi Majid Ar Rasyid, Anggraini Barlian, Akfiny Hasdi Aimon, Fitriyatul Qulub, Prihartini Widiyanti, Arie Wibowo

10.22146/ijc.78545

Abstract views : 823 |

views : 382

395-404
Atmanto Heru Wibowo, Annisa Nur Buana Wati, Anas Santria, Abu Masykur, Maulidan Firdaus

10.22146/ijc.78807

Abstract views : 684 |

views : 351

405-415
Lenny Rahmawati, Rian Kurniawan, Niko Prasetyo, Sri Sudiono, Akhmad Syoufian

10.22146/ijc.78908

Abstract views : 746 |

views : 512

416-424
Edi Pramono, Gadis Prihatin Wahyu Sejati, Sayekti Wahyuningsih, Candra Purnawan

10.22146/ijc.78979

Abstract views : 601 |

views : 302

425-437
Maria Ulfa, Windi Apriliani

10.22146/ijc.79098

Abstract views : 493 |

views : 231

438-448
Noverra Mardhatillah Nizardo, Rida Hasna Fadhilah, Ivandini Tribidasari Anggraningrum

10.22146/ijc.79264

Abstract views : 610 |

views : 406

449-460
Akhmad Masykur Hadi Musthofa, Mindriany Syafila, Qomarudin Helmy

10.22146/ijc.79784

Abstract views : 711 |

views : 426

461-474
Ernanin Dyah Wijayanti, Anna Safitri, Dian Siswanto, Fatchiyah Fatchiyah

10.22146/ijc.79819

Abstract views : 788 |

views : 393

475-488
Harry Supriadi, Iga Trisnawati, Tri Handini, Sri Rinanti Susilowati, Vincent Sutresno Hadi Sujoto, Panut Mulyono, Himawan Tri Bayu Murti Petrus

10.22146/ijc.79966

Abstract views : 626 |

views : 304

489-498
Tri Windarti, Nor Basid Adiwibawa Prasetya, Ngadiwiyana Ngadiwiyana, Limpat Nulandaya

10.22146/ijc.80298

Abstract views : 525 |

views : 255

499-509
Naseer Ahmed, Garnis Putri Erlista, Tri Joko Raharjo, Respati Tri Swasono, Slamet Raharjo

10.22146/ijc.80720

Abstract views : 960 |

views : 513

510-522
Kusuma Putri Suwondo, Nurul Hidayat Aprilita, Endang Tri Wahyuni

10.22146/ijc.81387

Abstract views : 551 |

views : 316

523-532
Short Communication
Kim Ngan Thi Tran, Cao Phuong Khanh Phan, Vuong Thinh Ho, Hung Dung Chau, Thi Nhu Dung Nguyen

10.22146/ijc.75636

Abstract views : 658 |

views : 347

533-541
Review
Laela Hayu Nurani, Citra Ariani Edityaningrum, Irnawati Irnawati, Anggita Rosiana Putri, Anjar Windarsih, Any Guntarti, Abdul Rohman

10.22146/ijc.74329

Abstract views : 1348 |

views : 568

542-567
Hasim Hasim, Didah Nur Faridah, Eka Nurul Qomaliyah, Frendy Ahmad Afandi

10.22146/ijc.76873

Abstract views : 728 |

views : 323 |

views : 231

568-582