Indonesian Journal of Chemistry is an International,  peer-reviewed, open access journal that publishes original research articles, review articles, as well as short communication in all areas of chemistry including applied chemistry. The journal is 

accredited

by The Ministry of Research, Technology and Higher Education  (RISTEKDIKTI) No : 21/E/KPT/2018 (in First Rank) and indexed in Scopus

since 2012

. Since 2018 (Volume 18), 

Indonesian Journal of Chemistry publish four issues (numbers) annually (February, May, August and November).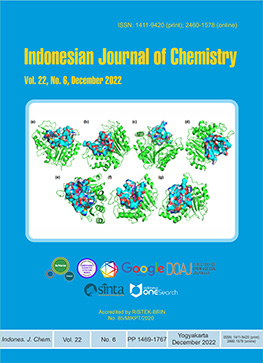 Announcements
Publication Frequency and call for paper

After publishing four issues since volume 18 (2018), the number of submitted papers increases significantly.  Therefore, to fasten qualified articles to be published internationally, Indonesian Journal of Chemistry publish six issues (

numbers

) annually (February, April, June, August, October and December) since 2020 (Volume 20). Therefore, we invite all authors to submit your qualified manuscripts of original research articles, reviews, short communication in our Journal. Within two months (longest) from submission, the decision of acceptance or rejection has been made. Submission is suggested via online.

Posted: 2019-12-17

Most Cited Articles

(Based on Sinta database)



Posted: 2019-04-27
Vol 20, No 1 (2020)
Accredited by RISTEKDIKTI No : 21/E/KPT/2018
Date : 9 July 2018

Table of Contents
Articles
Zaki Fahmi, Mudasir Mudasir, Abdul Rohman

10.22146/ijc.36955

Abstract views : 445 |

views : 477

1-8
Hartiwi Diastuti, Mochammad Chasani, Suwandri Suwandri

10.22146/ijc.37526

Abstract views : 593 |

views : 420

9-15
Duha Hussien Attol, Hayder Hamied Mihsen

10.22146/ijc.38558

Abstract views : 383 |

views : 287

16-28
Rika Wijiyanti, Triyanda Gunawan, Noor Shawal Nasri, Zulhairun Abdul Karim, Ahmad Fauzi Ismail, Nurul Widiastuti

10.22146/ijc.38978

Abstract views : 369 |

views : 319

29-42
Farhan Azhwin Maulana, Laksmi Ambarsari, Setyanto Tri Wahyudi

10.22146/ijc.39135

Abstract views : 375 |

views : 276

43-53
Putri Luthfiana Sari, Hanik Munawaroh, Sayekti Wahyuningsih, Ari Handono Ramelan

10.22146/ijc.39260

Abstract views : 314 |

views : 281

54-59
Muhammad Siddiq Maarop, Fatin Nur Ain Abdul Rashid, Mohd Fazli Mohammat, Zurina Shaameri, Saiful Azmi Johari, Mazurah Mohamed Isa, Anis Low Muhammad Low

10.22146/ijc.39566

Abstract views : 388 |

views : 292

60-71
Olayinka Oyewale Ajani, Olaoluwasubomi Eneyeme Joseph, King Tamunodikibugerere Iyaye, Natasha October, Damilola Victoria Aderohunmu, Shade John Olorunshola, Oluwatosin Yemisi Audu

10.22146/ijc.40448

Abstract views : 140 |

views : 133 |

views : 54

72-87
Marwah Noori Mohammed, Kamal Yusoh, Jun Haslinda binti Haji Sharifuddin

10.22146/ijc.40872

Abstract views : 309 |

views : 242

88-95
Mohd Najib Razali, Syarifah Nur Ezatie Mohd Isa, Noor Adilah Md Salehan, Musfafikri Musa, Mohd Aizudin Abd Aziz, Abdurahman Hamid Nour, Rosli Mohd Yunus

10.22146/ijc.40888

Abstract views : 379 |

views : 282

96-104
Norliza Dzakaria, Maratun Najiha Abu Tahari, Fairous Salleh, Alinda Samsuri, Masitah Abdul Halim Azizi, Tengku Shafazila Tengku Saharuddin, Muhammad Rahimi Yusop, Wan Nor Roslam Wan Isahak, Mohamed Wahab Mohamed Hisham, Mohd Ambar Yarmo

10.22146/ijc.40891

Abstract views : 323 |

views : 342

105-112
Suhanna Natalya Mohd Suhaimy, Luqman Chuah Abdullah

10.22146/ijc.40910

Abstract views : 374 |

views : 289

113-119
Agus Subagio, Erma Prihastanti, Ngadiwiyana Ngadiwiyana

10.22146/ijc.41340

Abstract views : 281 |

views : 278

120-129
Ani Iryani, Hadi Nur, Mardi Santoso, Djoko Hartanto

10.22146/ijc.41369

Abstract views : 413 |

views : 415

130-140
Ildefonso Baldiris-Navarro, Juan Carlos Acosta-Jimenez, Angel Dario Gonzalez-Delgado, Alvaro Realpe-Jimenez, Juan Gabriel Fajardo-Cuadro

10.22146/ijc.43035

Abstract views : 154 |

views : 128

141-149
Chanchal Chayan Paul, Md. Abu Shamim Khan, Probir Kumar Sarkar, Abdul Hakim, Md. Waliullah, Bablu Hira Mandal

10.22146/ijc.43266

Abstract views : 199 |

views : 163

150-159
Taghreed Mohy Al-Deen Musa, Mahmoud Najim Abid Aljibouri, Bayader Fadhil Abbas, Nahid Hasani

10.22146/ijc.43857

Abstract views : 251 |

views : 229

160-174
Zobair El Afia, Mohamed Youssef Messous, Mohamed Cherkaoui, Mounia Tahri

10.22146/ijc.43947

Abstract views : 138 |

views : 173

175-181
Dian Susanthy, Sri Juari Santosa, Eko Sri Kunarti

10.22146/ijc.44652

Abstract views : 156 |

views : 167

182-189
Andriyanto Andriyanto, Wahyu Wilopo, Endah Retnaningrum

10.22146/ijc.45164

Abstract views : 148 |

views : 155

190-199
Norman Yoshi Haryono, Winarto Haryadi, Tri Joko Raharjo

10.22146/ijc.45663

Abstract views : 156 |

views : 216

200-209
Edia Rahayuningsih, Felix Arie Setiawan, Conny Julanda Ayanie, Ambrosius Aditya Antoko, Yosephine Intan Ayuningtyas, Himawan Bayu Petrus

10.22146/ijc.46038

Abstract views : 289 |

views : 219

210-222
Review
Mohammad Haniff Ahmad, Wan Asma Ibrahim, Jahirah Sazali, Izirwan Izhab, Zulkafli Hassan

10.22146/ijc.39711

Abstract views : 228 |

views : 262

237-247
Nor Adzwa Binti Rosli, Wan Asma Ibrahim, Zulkafli Hassan, Azizul Helmi Bin Sofian

10.22146/ijc.40877

Abstract views : 202 |

views : 279

248-256